Details

Category: Markets
Last Updated: Friday, 28 January 2011 08:47
Published: Monday, 13 December 2010 23:24
Written by Lee-Ann Khoh
Canning Vale Markets
280 Bannister Road (cnr South Street and Bannister Road)
Canning Vale 6155

Wondering what to do this Sunday morning? How about a visit to Canning Vale Markets? Held at Market City every Sunday from 7am to 1pm, this swap meet is a great place to pick up a bargain or two.

It's $1.10 per adult to get in (55c for kids and concession card holders), and a crossing attendant even guides you across a narrow road to the warehouse area where the market takes place. The casual atmosphere of Canning Vale Markets invites curious individuals and families alike, and I'm impressed at how much can actually be packed into what appears to be a compact space.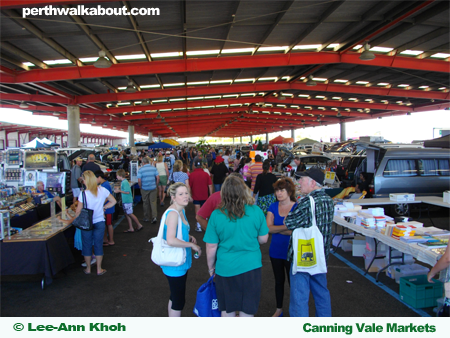 I take a stroll under the Perth sun, browsing the assortment of goods on offer, including but not limited to: furniture, tools, clothing and accessories, jewellery, books, movies, flowers and plants, souvenirs, memorabilia items, and incense. "Can I get this?" begs a young boy, tugging at a plastic water gun as his mother analyses a collection of decorative floor rugs. Another boy and his sister ask for hot dogs and ice creams from a nearby truck, while other children play on a bouncy castle.

Some of the sellers have more elaborate stalls and signs, while many others operate out of the boot or trunk of their car. Some are actively spruiking their wares, while others just sit and relax, waiting for the crowd to find them. Some are representing small businesses or charities, and others are just looking to make a quick buck from their unused goods. "Sunglasses, just $5!" yells one seller. Another fiddles with his Wii Remote while chatting to a man selling honey at the adjacent stall. Elsewhere, a man tends to some plants while discussing basil with a prospective buyer.

Established in 1990, the family friendly Canning Vale Markets attracts thousands of potential buyers each Sunday. Sellers can either book a stall in advance, giving them the best chance of a coveted undercover position, or arrive early on the day via Baile Road and queue up. With so many different items, both new and second hand, you can stumble on a real treasure for an unlikely price.
Buskers are also welcome at the Canning Vale Markets, provided you have approval from management beforehand.


Other than the Sunday markets, Market City is also home to a number of fresh produce outlets, specialty retail outlets, eateries, and professional services. Market City also hosts two Saturday morning markets: a fresh produce clearance market between 7:30am to 9:30am and a fish market from 6am to 10am. Both charge an entry fee of $3 per vehicle.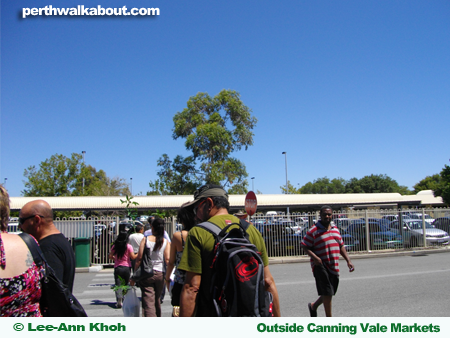 How to get there

From Perth Underground Station, take Mandurah Line to Murdoch Station. Then take a bus from Murdoch to Market City. Routes 206 (Murdoch University to Cannington Station), 517 (Murdoch Station to Southern River), and 851 (Murdoch University to Maddington Station) all stop on Ranford Road after Bannister Road, outside Market City's commercial centre. The Sunday market is held on the opposite side of Market City, with the entrance point on Bannister Road.

You may be interested to read our Perth Walkabout articles on other Perth Markets.