Details

Category: Markets
Last Updated: Monday, 17 January 2011 10:13
Published: Monday, 27 September 2010 15:35
Written by Vicki Sly
It is one of life's undeniable truths that "one man's trash is another man's treasure."

While some may turn their nose up at the thought of anything second-hand, for most, the lure of a bargain or the chance to find something of value that someone is selling for a song sees thousands of people hit Perth markets each weekend.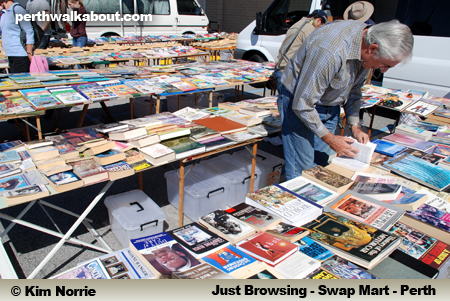 Second-hand markets in Perth come in all shapes and sizes and carry a host of different names – swap meets, swap marts, swap markets, car boot sales, garage sales, flea markets etc, but they are all about people meeting up for the purpose of buying and selling weird and wonderful "stuff".

If you are new to Perth or just travelling through and in search of a place to find some cheap bargains or off-load goods before moving on, you may wish to visit a swap mart.

Following are just some of the places in Perth that hold regular swap marts where people pay a small fee to organisers, usually a Rotary club, to set up stalls or just sell straight out of the boot of their cars.

The Karrinyup Swap Mart takes place every Sunday morning in the south-east corner of the Karrinyup Shopping Centre and is organised by the Rotary Club of Scarborough. The swap mart is 20 years old and is well known in Perth as a great place to find some super bargains. Goods for sale must be second-hand only and seller set up is from 5.30am with buyers welcome between 6.30am – 11.00am. All proceeds go to the Rotary Club.

Further north to Joondalup and there is also a swap meet on every Sunday at the Joondalup Library Undercover Car Park at 102 Boas Avenue, Joondalup. This is also Rotary driven and is a joint venture between the Rotary clubs of Joondalup and Hillarys, with funds raised going to community projects in the area. The swap meet opens for sellers from 6.00am, before opening to the public between 7.30am and 11.00am.

Closer to the city is the Nedlands Swap Mart which is held every Sunday at the Broadway Fair Shopping Centre and is organised by the Rotary Club of Nedlands. This is on between 6.00am and noon with bays costing sellers $5.00.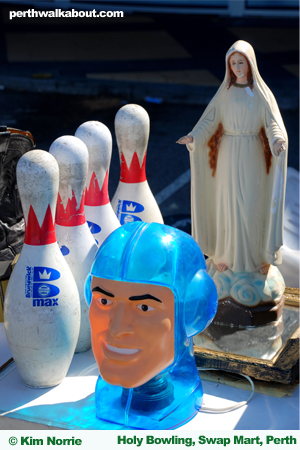 There are many other swap marts about Perth – Wanneroo, Morley, Belmont - just to name a few. Perth's weekend newspapers are a great way to find one close to you.

Perhaps the big daddy of Perth's markets is the Canning Vale Markets which is located about 16km south of Perth city at 280 Bannister Road, Canning Vale. Operating since 1990, the markets boast over 300 stalls with both new and second-hand goods and are open between 7.00am and 1.00pm. Goods on sale range from fashion, crafts, jewellery and fresh flowers to fishing tackle, pet products and custom-made stickers produced while you wait.

For those wanting a more intimate buying experience without the hordes, you may want to try a garage sale. Held on both Saturdays and/or Sundays, garage sales are usually listed in local newspapers, the weekend papers or the Quokka – Perth's largest classified paper popular amongst bargain hunters.

Garage sales are often moving sale where everything must go, so if you are in the hunt for furniture or household products, then these are often a great place to look.

Still can't find what you are looking for? Perth has a huge number of second hand stores often run by large charities like the Red Cross, St Vincent de Paul ("Vinnies") or the Salvation Army. These are scattered throughout the suburbs of Perth and can be found in any phone book or local guide.

If you are interested in exploring different markets around Perth, please check out our dedicated section on Perth markets.