Details

Category: Nightlife
Last Updated: Thursday, 03 February 2011 08:59
Published: Friday, 01 October 2010 15:51
Written by Sadhbh Warren
Devilles Pad is a venue that eludes description. Its website is tantalisingly vague and hints many wonderful things; cool cocktails, sinful snacks, groovy tunes and wild entertainment. My Perthite guide, who is navigating me down Aberdeen St towards East Perth and towards the bar, describes it as a glamorous retro supper club with a demonic twist.

Sounds great. Um. What's a supper club?

For those of you who also have no idea, a supper club apparently refers to a restaurant that is also a night out – also known as a cabaret club. The supper club is an American invention which became popular first during the Prohibition (when they ran illegally) and then as glamorous dinner and club destinations. Dolled-up patrons would make an event of it, and go to spend the whole night there; from cocktails to dinner through to a night of entertainment.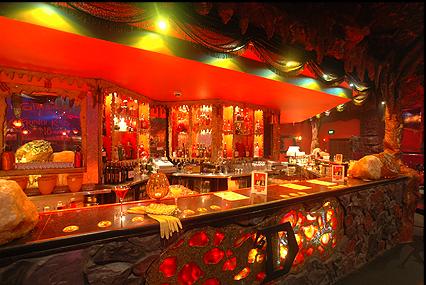 Photo Courtesy of Devilles Pad

What, what?
So Devilles Pad, an ornate lounge with a "Las Vegas in Hell" theme, is not your typical pub. Its plush red and gold interior offers all the comforts of heaven with a volcanic satanic twist that's deliberately reminiscent of hell. Hence the name. We're partying in the devil(le)'s pad.

The jokes just write themselves. We're in Devilles having a hell of a time. Would I like a cocktail? Hell, yes! It's one hell of a great night out. We're enjoying some devilishly good food. There's a succubus in the bathroom.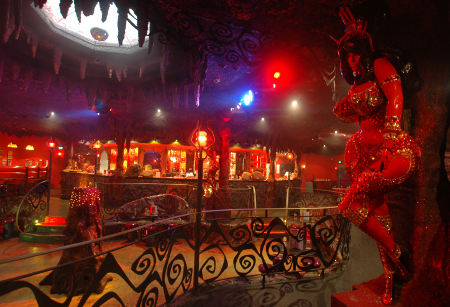 Photo Courtesy of Devilles Pad


Devilles Pad is counter-culture with some serious chic going on and the glossed up demon-ette I meet in the bathroom is no exception. She looks like a cross between Bettie Page and Marilyn Monroe, sporting a red floor-length gown with accessorising horns and a tail. And she's not looking out of place. There are no thongs or sneakers, not a jeans and t-shirt combo in sight. The code here is dress to impress and the clientele are doing their best to do just that as they have a bite to eat and settle in for a great night.

The food is if not hellishly hot at least naughtily saucy - a mix of Mexican and American Deep South style cooking including massive tasting plates, smoked pork barbecue rolls and spicy tacos. Good job there is all that dancing, or all the demons would be to fat to move much less tempt people. Thursday is apparently ten dollar Demon Dinner night, and you can wash down dinner with an absurdly large cocktail – I recommend being tempted by the Tequila Temptress, Damnation Libation or the deliciously sharp and citrusy Mighty Mefizzto, although by the time I get to my third cocktail I'll recommend anything.

It's open until 2am at weekends and over 25's - although they say that younger clientele will be considered if they are appropriately dressed and suitably sophisticated. The crowd is diverse and laid-back, regular folks mixing it up with rockabilly chicks, teddy boys and glamorous gothettes, and everyone enjoying the entertainment.
The evening could bring you burlesque dancers, go-go girls, magicians or DJs, and live bands are regularly scheduled. As for the music, it's a bit of a mix of whatever the DJ fancies – I count disco, seventies funk and a touch of soul. But as they say, the Devil has all the best tunes, and in Devilles they keep your hooved feet tapping - right up until closing time.

You may also be interested to check out other Perth Walkabout articles in the Nightlife section.