Details

Category: Nightlife
Last Updated: Sunday, 07 November 2010 07:14
Published: Friday, 24 September 2010 16:10
Written by Sadhbh Warren
Suffering from the no holiday blues? Forget spending a few thousand dollars and ten hours on a plane, head to the Hula Bula Bar to soak up the tropical island atmosphere and the ridiculously potent rum cocktails.
The website for the Hula Bula makes a lot of the mystery of its location. It tells you that sailors used to trade limbs for the location and that you'll find it deep in the lost city of Perth. We're hoping not to have to trade a limb ourselves as we look for it. You need to keep your eyes down or you'll miss the entrance - it's down an understated set of steps on Victoria Avenue and straight on into the South Pacific.
Once inside, we discover that the understatement is over.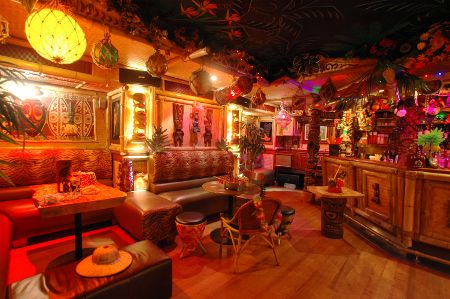 Photo courtesy of Hula Bula Bar


The tiny space is looks like a shipwreck in a nightclub, jammed with everything Polynesian and tropical. The doors are huge tiki god masks, exotic animal prints abound on the furniture and the walls are covered in tropical murals that merge into the lush vegetation. There's even a tiger skin rug on the floor.
If that sounds a little ostentatious and more than a bit un-environmentally friendly, you'll be reassured to find out that the tiger skin is a print painted on the floor, the vegetation artificial and the ethos is not all conspicuous consumption. In fact, according to Wonder Bar Design who helped build this South Pacific-inspired bar five years ago, a lot of the Hula Bula is made from recycled or sustainable material. Several kilometres of bamboo were used in the construction. Some of the tikis are made from salvaged wood and the furniture is from salvaged bases, recycled timber and raw planks, keeping the planet happier and giving the Hula "an authentic shipwrecked look".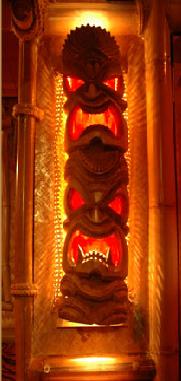 Tiki Mask
Photo courtesy of Hula Bula Bar

And like those famous shipwreck islands, this Tiki bar is small. If you book the bar for a private function it allows just 89 people in. Not 90, for some reason. 89 exactly. And while the bar might be small, you can't say the same about the drinks. When a shipwrecked Jack Sparrow mournfully lamented in Pirates of The Caribbean "why is all the rum gone?" he was clearly not in the Hula Bula. There's lots of rum. Almost too much rum. If there is such a thing.

Served in coconuts or ceramic monkey heads, and heavy on the side fruit and stirrers, you'll find every type of rum-related cocktail you could want on the list and then some. There's the ubiquitous and delicious MaiTai, the classy Hona Lulu (champagne and cranberry and, of course, rum) and my favourite – the Suffering Bastard, complete with a mini hula girl stirrer.
The cocktails are expensive but also near lethally strong - how can something so tasty and delicious contain that much alcohol? Enjoy the choice but remember if you get too ship-wrecked, you will be politely asked to leave. No drunken sailors here, please.
The Hula Bula Bar puts a lot of effort into achieving a vibe that is fun and funky but still sophisticated, and encourages its clientele to think the same way. The door policy is strictly over 21's and the dress code relaxed but chic - you can probably leave your coconut bra and grass skirt at home, or you won't be getting in to. It's not open Sunday to Tuesday, but does open late on Friday and Saturday night.
And, I can assure you, with a cocktail in hand and the island beats playing to swaying hips, this is one tropical shipwreck that you'll just love to get stranded in.

Do you have any great night spots in Perth to recommend?

Please add your comments below.