Details

Published: Saturday, 16 October 2021 09:18
Written by Nita Teoh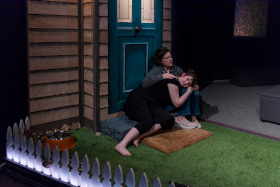 What is so special about dogs ? - their unconditional love for a start and much, much more.

Where do we begin? As avid dog lovers – my partner and I heading off to the Subiaco Arts Centre – with a dog-owning friend in tow to watch "Bite the Hand" by The Last Great Hunt.

In Australia according to the RSPCA nearly 1 in 2 households own dogs and this trend is on the rise. We love our dogs and couldn't do without them for many and varied reasons.

Human and man's best friend – our relationships with our beloved dog is an important one – simplex and complex all at once.

The Last Great Hunt takes us on an interesting journey to explore what might happen if our favourite canines had more intelligence, and thus more power and the ability to express and exert their will. Would we be better off in terms of strengthening our bond through greater understanding between human and dog ?

Would the human be better off ? The dog as well? Both parties ?

We often say "If only they could talk to us" - but what are the implications if they really could?