Details

Published: Friday, 14 May 2021 08:52
Written by Greg Letts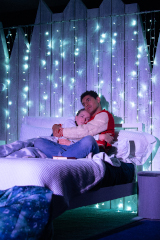 Upon heading to Perth's newest performing arts venue – Burt Hall on St Georges Terrace – I was struck by how intimate the setting is. Nestled in one of the rooms underneath the main hall, it is a perfect setting for giving the audience that real "fly on the wall" experience, since even the back row is only a few metres from the elevated stage.

This feeling of really being there works wonderfully well in Theatre 180's production of I and You, Lauren Gunderson's two-hand story of teenage angst, pain, hope and love. Set in 17 year old Caroline's bedroom, you really do feel that you are perched in a corner, watching the story unfold.

Caroline is currently sick at home, waiting and hoping for a desperately needed liver transplant. She is ill, tired and understandably bitter about her situation, isolated in her bedroom with only a mobile phone as a lifeline to the outside world.