Details

Category: Perth City & Surrounds
Last Updated: Friday, 19 November 2010 13:38
Published: Thursday, 04 November 2010 14:29
Written by Lee-Ann Khoh
The Hay Street Mall is one of two parallel pedestrian shopping malls in the Perth CBD. Like the parallel Murray Street Mall, the Hay Street Mall features a variety of independent and chain stores (including department store giant David Jones) to cover all your fashion and entertainment needs.

JB Hi-Fi's Hay St Mall store sells a wide range of music and movies at affordable prices, while its annex store in Piccadilly Arcade sells computers and cameras. If you're looking for a great book, you're covered with Dymocks and Borders. Borders even has a Gloria Jean's coffee shop located inside, along with its huge collection of books (including manga and graphic novels) and magazines.

Looking for something a bit more alternative? Off Ya Tree sells a range of band merchandise, punk fashion, accessories, smoking paraphernalia, and novelty products. They also offer body piercing.

Several arcades can also be accessed via Hay St Mall: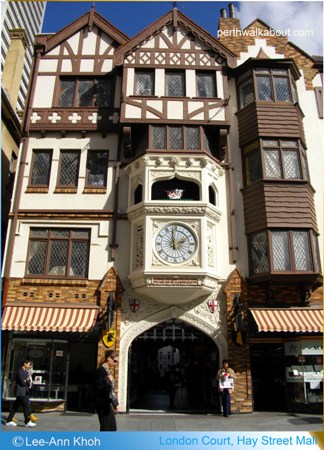 London Court is a unique open-roof shopping arcade that links to St Georges Terrace. Based on the architectural styles of England's Tudor period and Elizabethan era, London Court's contemporary range of fashion, accessories, souvenirs and services somehow manage to fit its old fashioned theme. Tucked away in the basement of London Court is Tactics, which specialises in fantasy roleplaying and tabletop games, including Dungeons and Dragons and other lesser known games. Tactics also hosts various tournaments for keen gamers.

The decorative Flemish bond brickwork and Victorian style of Trinity Arcade harks back to its history as an arcade for trustees of the Trinity Church. In 1989, the arcade was expanded to three levels and today it includes cafés, clothing, jewellery, antiques, watch repairs, hairdressers, rare books and antiques. The arcade links Hay Street Mall with St Georges Terrace, as well as offering passage to the Esplanade through the cozy Allendale Arcade.

The eclectic column of shops that line Piccadilly Arcade are all based around an art deco theme, built around the old Piccadilly Theatre (now known as Piccadilly Cinema), the only cinema operating in the Perth CBD.

Enex100, which connects Hay St Mall with St Georges Terrace is a classy shopping centre that caters to your food and fashion needs. Plaza arcade sells an assortment of fashion, snacks and souvenirs. The Carillon City arcade may seem like a maze at first, but it is home to some hidden treasures like Dirt Cheap CDs as well as the Carillon Food Court and many other worthwhile stops. Upstairs you'll find stores like Morning Glory, the Perth home of iconic Japanese characters like Totoro, Astroboy, Hello Kitty and Domokun. Carillon City leads to Murray Street Mall, Forrest Chase, Trinity Arcade, or St Georges Terrace – depending on which turn you take.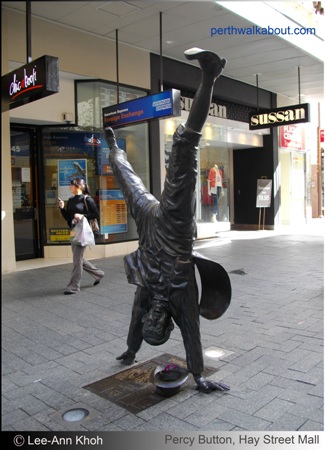 Percy Button, a Perth street entertainer from the 1920s-1950s, is immortalised in a sculpture in the middle of the Hay St Mall.

How to get there

The easiest way is to take the Murray St exit from Perth Train Station, then cut through Target or Piccadilly Arcade (or any of the other arcades) into Hay St Mall.

Discovered any interesting places in the Hay St Mall you would like to share?

Please add your comments below.