Details

Category: Perth City & Surrounds
Last Updated: Wednesday, 08 December 2010 09:28
Published: Wednesday, 01 December 2010 10:31
Written by Emily Cordz
The laneways of Perth might not be as much a city fixture like they are in Melbourne, but that will be changing over the coming years. The Perth government is in the process of acquiring and updating an assortment of laneways here in Perth.  The plan is to keep the gritty feel of the laneway, but develop it as a space for small bars, restaurants and specialty shops.

A couple laneways have already undergone this facelift process, while others are marked for the future. Regardless if our laneways have been updated yet or not, there are a number of treasures to be found by heading off the beaten track to explore some of Perth's laneways.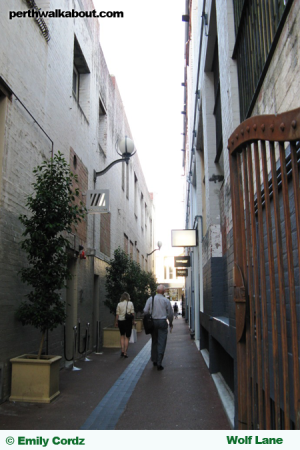 Wolf Lane

Just one block west of the Murray Street Mall is one of the recently renovated Perth laneways, Wolf Lane. The renovation included consolidating the bins, minimizing traffic and adding visual appeal through interesting artworks. These renovations along with the an increasing public interest in usable laneways has lead to several outdoor musical ventures in the Wolf Lane car park that have featured local and international acts.

Wolf Lane is home to a scattering of small bars, cafe and specialty boutiques. Wolfe Lane Bar is a popular after work and weekend place to meet for cocktails and music in a chic, New York style atmosphere.  Further into the lane, is Alda. An Italian restaurant, that some argue is one of the best in Perth, known for its fresh food on a constantly changing menu. Renowned Toni & Guy hair salon sits just off Murray Street, providing people fashionable looks in the heart of Perth central.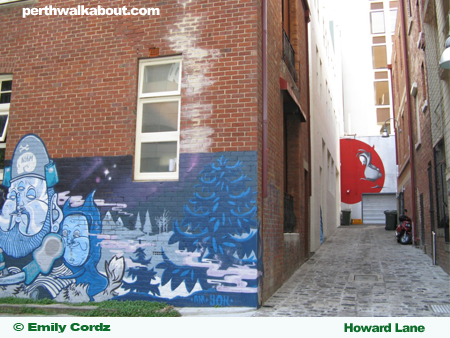 Howard Lane

Howard Lane is located just off Howard Street about one block south of the Hay Street Mall. It travels behind several heritage listed buildings and has some wonderful examples of incidental artwork. Don't forget to glance up as you enter the north end of the laneways, otherwise you'll miss the chandeliers strung across the laneway.

Two main attractions bring most people to Howard Lane, Andaluz and Helvetica. Serving up tasty tapas in the comfortably furnished basement of the old Parker & Parker building, Andaluz is a great place to start or pass an evening. Just down the laneway, a nondescript door marks the entrance of Helvetica. This popular drinking establishment mixes up classic cocktails, with a strong emphasis on whiskey, while their food menu provides scrumptious snacks to starve off the hunger pangs.

Shafto Lane

Passing between two blocks, Shafto Lane is runs perpendicular to Hay Street and Wellington street between King and Milligan Street. Shafto is probably the most developed of Perth's laneways as it is packed full of cafes, bars and clothing boutiques. Music and art events occasionally take advantage of the small scale atmosphere for various events.

There is a lot to check out in Shafto Lane. Cafe Bocca dishes out fresh Mediterranean and Italian style cuisine. Get your gourmet burger fix at The Burger Bistro. Japanese lovers will want to head to Taka's Kitchen for cheap and delicious meals. Wash down your meal with a beer at the Irish themed Durty Nelly's, The Generous Squire brew house. Fashionistas will want to head to the Basement Shop and Tu to find beautiful clothing and accessories.

The laneways of Perth are slowly being integrated into the fabric of the city. The government is set on fixing up and supporting small business growth in many of the laneways throughout Perth, with their immediate focus on Prince Lane, Grand Lane and McLean Lane.

Interested to explore more hidden delights in Perth?

Read about Perth Walkabout's article on The Best Hidden Cafes in Perth