Details

Category: Perth City & Surrounds
Created: Saturday, 04 September 2010 12:41
Published: Saturday, 04 September 2010 12:41
Written by Lee-Ann Khoh
The Murray Street Mall is one of two parallel open air shopping malls in the Perth CBD. (The other is the Hay Street Mall.) In the bustling but relaxed Murray Street Mall, you'll find a series of quality independent specialty stores alongside large department stores such as Target, Myer and David Jones. The mall is closed to traffic so you can take your time exploring the boutiques and cafés, browsing for books, phones and cameras, shopping for a souvenir, and perhaps even finding the perfect piece of jewellery for someone special. There are also banks and money exchangers at the mall.

Sometimes you will see buskers and artists performing and selling their work along the Murray St Mall, adding a little extra life and culture to a fashionable yet casual area.
An information kiosk is run by friendly volunteers every day of the week except public holidays. On most days, the kiosk is open from 9:30am to 4:30pm, with hours extended to 8pm on Fridays. On Sundays it is open from 11am to 3:30pm.

If you're looking for a great read, Angus and Robertson's Murray Street presence has two floors that cover every genre, including a basement floor dedicated to children's books. They also sell travel guides and maps. Book lovers may also find a bargain at Discount Bookworld located at the Barrack Street end of the mall.

If your tastes are less mainstream than what you see along the Murray Street Mall, you may want to venture down the alleyway between Cotton On and Java Juice, where the entrance to Joynt Venture lies. Take the stairs up to the first floor and you will find a store with clothing (mostly black), posters, and various accessories (like spiked and studded belts) and paraphernalia (including hookah pipes and vaporizers). You might also find some cool clothing at Hurly Burly Clothing and jewellery at Sparkles, near the entrance to Target.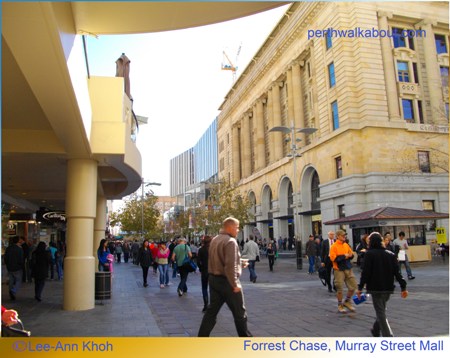 There are also a number of arcades that connect the Murray Street Mall to the parallel Hay Street Mall.

The modestly named Plaza arcade is home to fashion and snacks… and perhaps a souvenir in the form of an iconic Australian akubra hat or some ugg boots from Outback Red.

Piccadilly Arcade is built around the old fashioned Piccadilly Theatre (now known as Piccadilly Cinema), the only cinema operating in the Perth CBD. The eclectic corridor of shops that line the short arcade – including Zubias Threading (Perth's first professional hair threading chain), The Blue Buddha (which sells charms and offers tarot readings) and JB Hi-Fi's camera and computer store – all seem to fit together somehow in a strange art deco marriage.

The Carillon City arcade may seem like a maze to first time visitors (and maybe even second and third time visitors!), but it's here that you'll find the aptly named Dirt Cheap CDs as well as the Carillon Food Court and many other worthwhile stops. Make your way up the stairs and you may also stumble across stores like Morning Glory, the Perth home of iconic Japanese characters like Totoro, Astroboy, Hello Kitty and Domokun.
From Carillon City, you can end up back at Murray Street Mall, the adjacent Forrest Chase or Trinity Arcade, or nearby Hay Street and St Georges Terrace.

How to get there
To get to the Murray Street Mall, simply use the Murray Street exit from Perth Train Station.