Details

Category: Perth Restaurant Reviews
Created: Wednesday, 08 September 2010 10:20
Published: Wednesday, 08 September 2010 10:20
Written by Amanda Kendle
One of the most popular northern coastal spots of Perth is the Hillarys Boat Harbour, Sorrento Quay and its ever-expanding collection of restaurants, cafes and bars makes it an ideal place for a lazy afternoon drink or a tasty lunch or dinner, often overlooking the water or at least with the chance to have a stroll past all the boats after your meal. Recent extensions mean that there are even more interesting eating spots to choose from.
If you're looking for a good sit-down meal, there are a few classy options. An interesting choice in the newest section of the harbour is the Hippo Creek African Grill, which is African through and through from the decor to the buffalo, camel and ostrich they serve up (but don't worry, they also do plenty of normal steaks if you're not feeling so adventurous – just don't take your vegetarian friends there!). Nearby, upstairs in the Breakwater Tavern, the new Ishka Restaurant is becoming popular, although I haven't yet tried it out.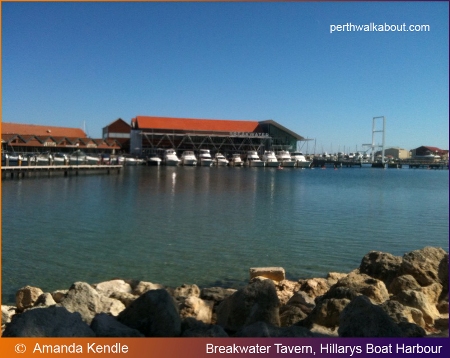 Back in the main section, Jetty's Restaurant has been at Hillarys since the beginning, and is famous for its buffet meals with tables literally on the water – a weekend breakfast is a particular local speciality, so try to book a table. Over near the Great Escape park, there are several restaurants to choose from including the new Bella Fonte (which sadly replaced one of my favourites, Portofinos) and Toscanini's, and even further round in the quiet part of the harbour you can find Spinnaker's, although this I always feel this one lacks the atmosphere that the restaurants within the main boat harbour have.
For more relaxed dining and take away meals, there are a huge number of choices at Hillarys Boat Harbour. Next to Hippo Creek you'll find Australia's Finest Burgers, whose name certainly stakes a big claim and while it may not quite live up to that, it certainly offers a great range of burger meals that are a whole lot more special than your regular takeaway, plus they have plenty of al fresco tables overlooking the water.

Being right on the water, you'd expect to find some seafood offerings and the two most popular are the Top Catch Fish'n'Chips shop, for typical takeaway fish and chips deals, and the Zenos cafe which serves up various kinds of fish and chips meals in a large restaurant area.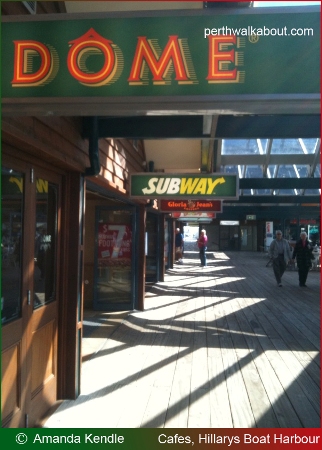 Some franchise chains also feature at the Hillarys Boat Harbour. For Asian-style takeaway, try Wokinabox, or there's a Kebab Co. for kebab lovers. There is also a Subway store for takeaway rolls, or if you're like me, their chocolate chip cookies, to which I have to confess an addiction.

For an after meal treat, there are several ice cream options, including the Bellisimo Gelato store which is my personal favourite – my recommendation is the pavlova-flavoured ice cream. The Cold Rock Ice Creamery is another interesting one where they mix up all kinds of confectionery and chocolate goodies to go into your ice cream.
If you're not in need of a meal but just a good coffee and perhaps a biscuit or two, you can choose from the Dome cafe (currently expanding) or Gloria Jeans; juice lovers can go to Boost Juice instead; and if you need something stronger, then the Breakwater Tavern is the place to go for a beer or two and some good company.