Details

Category: Perth Restaurant Reviews
Last Updated: Wednesday, 05 January 2011 12:07
Published: Tuesday, 02 November 2010 14:38
Written by Vicki Sly
The name Kailis has long been associated with the seafood industry in Perth so where better to head when you are craving all things fishy?

George Palasis Kailis started selling fish in the 1920s when the old markets were alive and kicking in Wellington Street, Perth. Although the markets are long gone, the Kailis family continues to sell both fresh fish and seafood in Fremantle and Leederville.

My two friends and I decided to let someone else do the cooking for a change so headed to the Kailis Bros. Fish Café on Oxford Street in the heart of Leederville, only a few kilometres from central Perth.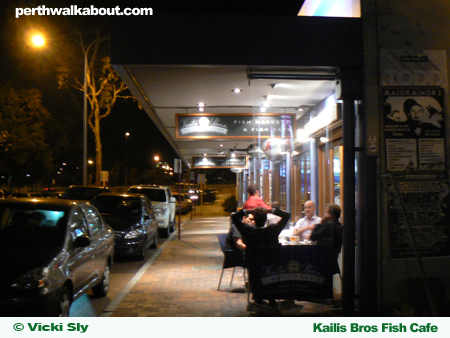 The building is split in two with the fresh market on the left and the café on the right. The markets are open from 8.00am to 6.00pm and the café, 7.00am to late everyday.  Don't be fooled into thinking that because the café is open long hours it's easy to get a table as when we went on a very ordinary Tuesday night, the café was packed. My friends had been turned away in the past so knew to book in advance. Clever girls!

I arrived first and was shown to my seat and immediately offered a drink. Being the sensible type that I am, I opted for a glass of water and took time to soak up the atmosphere of a busy eatery.  The black and white photos of the Wellington Street fish markets from 1965 are worth a look if you enjoy learning about the history of Perth.

The café was buzzing.  Earlier this year it won the 2010 WA Seafood Industry Awards for the Seafood Restaurant category so that may have something to do with its popularity.

My friends soon arrived, we ordered a lovely crisp WA sauvignon blanc (at $36.00, cheaper to go for the bottle than per glass) and set about deciding on what to eat.  The menu was by no means simple and boasted oysters, prawns, fish, octopus, crab, mussels and squid to name but a few.

I must point our here to people new to Perth that due to our proximity to the coast and the availability of fresh produce, West Australian's are pretty choosy about their seafood and expect high quality with not always the necessary fuss.

With this in mind my friends and I opted for a simple grilled fish burger ($19.50) and the salt and pepper squid ($34.90).

Despite the crowd, our wait was short and the food arrived hot and nicely presented.  The burger was served on crusty bread and accompanied with a garden salad, wedges and an aioli.  My friend was pleased with the moist fish and said her meal was delicious.

My other friend and I went for the main serve of the salt and pepper squid (each) and in hindsight an entree size may have sufficed. Needless to say we ate it all. It was served with a lovely Asian-style cabbage salad and a chilli dipping sauce.  With no room for dessert, we opted for coffees and a pot of jasmine tea to finish off.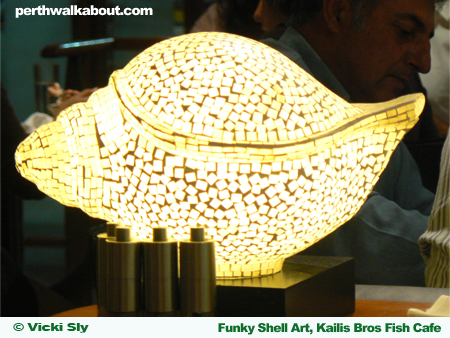 Although not super cheap, the service, ambience and food were all high quality and can be recommended for a quintessential Australian seafood experience.

Kailis Bros. Fish Café is located at 101 Oxford Street, Leederville, telephone: 9943-6300.

How to get to Leederville

From Perth city, take the train to Leederville Station along the Joondalup line. Follow the pedestrian bridge at the city end over the freeway to Oxford Street. If driving, there is a freeway exit closeby at Vincent Street.  Parking in Leederville at night is hit and miss and the inspectors can be ruthless so best to park and pay.  Fees are all night long so don't get caught out by thinking you will by okay after dark – it's not the case!

Feeling hungry?

Please browse our other Perth Walkabout Restaurant Reviews.