Details

Category: Perth Restaurant Reviews
Last Updated: Wednesday, 22 June 2011 09:34
Published: Friday, 25 March 2011 21:03
Written by Vicki Sly
Beer lovers travelling to Perth have a busy time ahead with pubs offering a great range of local, national and international bevies to sample.

But just a word of warning, in Australia the word pub is short for public house and although it also means hotel, a pub is primarily a provider of alcohol and not accommodation. This is an important note for travellers who may want to book a room at a hotel but find themselves at the local drinking hole instead.

In the grand scheme of Western history Australia is a young country, but in terms of beer drinking and pubs, we have plenty of years (and beers) under our belt.

According to the Australian Beers website, we have been drinking beer since the First Fleet arrived in the 1700s with Captain James Cook fitting out his ship the Endeavour with barrels of beer to drink when the water went bad. Australians can no longer blame the bad drinking water for turning to beer but I am sure there are many who still try.

Just like a good restaurant or café, a first-class pub must have the right balance of a top location, great ambience, good food and of course, service with a smile. There is also the choice between a buzzing crowd and a quiet space. The drink, of course, is up to you and pubs these days no longer just serve larger on tap; the choices are endless.

So, where to start? Below is just a small taste of some of the great pubs you should try whilst in Perth - starting in the south and heading north.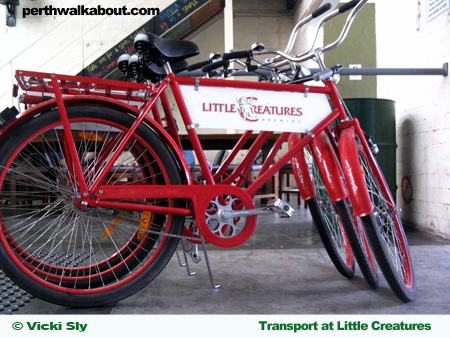 Little Creatures

40 Mews Road, Fremantle. Little Creatures sits on the water in the heart of Fremantle and is a popular brewery for locals and visitors alike. Although not officially a pub, this is a great experience recommended to visitors to Perth as the brewing is open for all to see and there are great award-winning beers made on the premises.

Sail and Anchor

64 South Terrace, Fremantle. Situated in downtown Fremantle is an old favourite called the Sail and Anchor. This hotel is a great place to try some local brews and also become hands on as it frequently promotes home brewing competitions. Definitely something different to try here.

The Ocean Beach Hotel

Marine Terrace, Cottesloe.  Known locally as the OBH, this iconic Perth hotel has long been a favourite to catch a sunset overlooking one of WA's premier beaches at Cottesloe. In terms of location, you can't get any better that this. The OBH also offers casual dining and live music for the Sunday evening session.

Rosie O'Grady's

Corner James and Milligan Streets, Northbridge.  This pub is a little bit of Ireland to be found Down Under.  It is located in the heart of the entertainment and food district of Northbridge and promises some great "craic" and a lively atmosphere. Rosie's is popular with young travellers so if you are looking for a fun crowd, this is the place to go for a drink or two.  There is also a Rosie O'Grady's in Fremantle so if you are meeting up with friends, make sure you know which one you are going to.

The Brass Monkey

209 Williams Street, Northbridge.  Just down the road from Rosie O'Grady's is the Brass Monkey which is a beautiful old building that houses a number of personalities inside. There is a choice of bars in this pub and they are all distinctly different so you are bound to find something to suit. This is also popular amongst travellers and those opting to hang out in the main bar will get a taste of quintessential Australia.

The Queens Tavern

520 Beaufort Street, Highgate.  Built in 1889, the Queens underwent a facelift almost one hundred years later and today is a classic lady with a contemporary edge.  The Queens is located a short walk from the heart of Mount Lawley's restaurant, shop and theatre strip and is popular with the locals, especially when the weather is good, which, let's face it, is most of the year in Perth.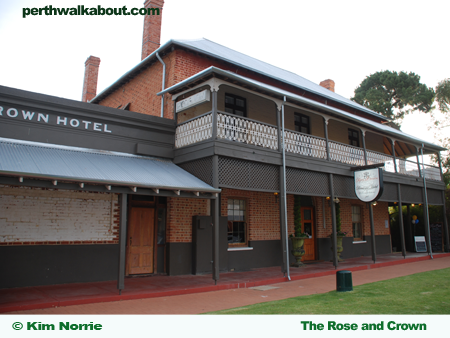 The Rose and Crown

105 Swan Street, Guildford.  Travel to the historic town of Guildford and have a drink at the Rose and Crown. Built in 1841, this is the oldest hotel in Western Australia and the third oldest licensed hotel in Australia. Set amongst lovely gardens, this historic pub is well worth a visit for the food and the atmosphere.

If you have a great local Perth pub that you would like to let others know about, please add your comment below.

Other Perth Walkabout Articles

Showing Off WA's Little Creatures

Northbridge Has It All

Mt Hawthorn is Sitting Pretty on the Fringe of the City

WA Beer: Feral-ly Delicious - The Best Breweries in WA