Details

Category: Perth Restaurant Reviews
Created: Saturday, 25 September 2010 14:00
Published: Saturday, 25 September 2010 14:00
Written by Sadhbh Warren
Pink Zulu
6 Napoleon St
Cottesloe 6011 WA
Phone: (08) 9384 7688
Website: www.pinkzulu.com.au

When you look out west from Cottesloe Beach the next major landmass is South Africa, a temptingly exotic destination but unfortunately a bit too far to swim. Most Perthites can't just hop over the 8,000km of ocean to KwaZulu-Natal when we fancy a nightlife safari at the weekend, so it was with delight that I discovered that the Pink Zulu Restaurant and cocktail lounge in Cottesloe, Perth is bringing Africa to us.

Well, sort of. Don't expect tribal digs or walls covered in hunting trophies and rifles. Pink Zulu's interior is stylishly rococo and coloured for its name, with cerise and fuschia on the walls, the furnishings, all over the menu. The baroque restaurant is lined with plush patterned seats and black-clothed tables weighed down by huge candelabras and at the bar, pink and rose-hued cocktails are being whipped up with impressive speed.


Photo courtesy of Pink Zulu

It's undoubtedly striking but I didn't expect a place with an African theme to be, well, this pink. But look a little more closely and you'll find your safari; zebra printed light globes, wooden carved warriors, beaded decorations and, of course, all over the menu.

The Pink Zulu Restaurant isn't pretending to be Cape Town or the Kalahari come to Perth, but its decor and food is inspired by the African continent. It describes itself as "Africa with style", and that style is classy, cheeky and not just a little pink.

The names of the drinks are African-inspired, but include the usual favourites such as mojitos and martinis as well as whole plethora of pink potions. Those with a yen to sample the exotic can try battling a Warrior (vodka with smashed watermelon, peach & hazelnut liqueurs and a hint of lime; a deliciously sweet and sharp combination) or polishing off a Pink Zulu Martini. Or sip on a Vesper, as described in the Bond novel Casino Royale – this take on the martini will leave you not shaken but certainly stirred up to try the rest of the cocktail menu.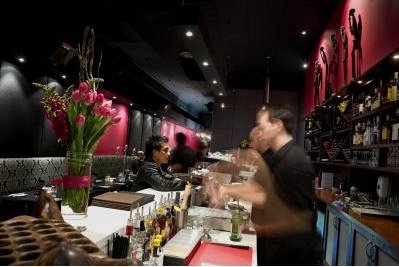 Photo courtesy of Pink Zulu

Strong cocktails on an empty stomach can be the end of a great night out, so don't forget to check out the food menu too. Share a tasting plate of kofta lamb or crispy prawn and crocodile croquettes.  Try the sweet and hot monkey gland sauce on the Wagyu rump – it doesn't contain monkey glands, but you don't have to tell your horrified fellow diners that.  Finish everything off with a Drunken Elephant, a crème brûlée laced with Amarula cream liqueur; big enough to share, delicious enough to keep to yourself and boozy enough to get an elephant hammered.

For those of you planning to have a few of the cocktails or sample with wine menu (lots of good South Africa choices there), the good news is that Pink Zulu is right next to Cottesloe train station so a long evening can finish with an easy trip home. It gets crowded even on weeknights, so book well in advance or you may be disappointed on the night.

With imaginatively presented main courses ranging from $20 to $35, and cocktails priced at $17.50 each, Pink Zulu Restaurant is not for the penny-pinchers but is perfect for a girl's night out or any occasion that merits a touch of exotic elegance. With a stylish setting and menu full of talking points (including tasting plates to share) the Pink Zulu could also be a perfect place to start a romance. Just make sure that you don't wear pink, or your date may not be able to tell you from the decor.

Have you say about the Pink Zulu Restaurant in Cottesloe and add your comment below.