Details

Category: Perth Restaurant Reviews
Last Updated: Wednesday, 02 March 2011 09:48
Published: Tuesday, 02 November 2010 17:15
Written by Vicki Sly
The Shanghai Tea Garden in Northbridge offers food lovers in Perth an interesting blend of Asian food - or Shanghainese food to be more specific –traditional Chinese tea, French-style patisseries and Italian coffee.

There is no doubt that Australia has long been recognised as a place where food fusion is part of the everyday vocabulary.  But I am not sure what you call it when each food or drink is offered in its own right, alongside another. Choice is a word that springs to mind.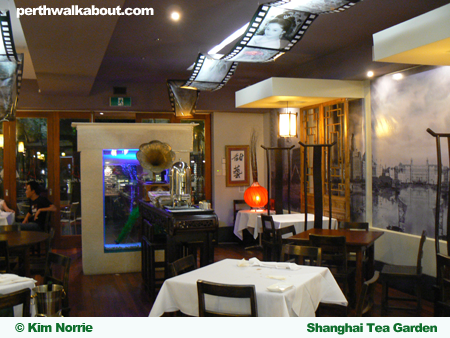 At the Shanghai Tea House there are choices, and they must be doing something right that appeals to customers as the restaurant has just been named a finalist in the 2010 Gold Plate Awards in the Unlicensed Asian category.

The Gold Plate Awards are in their 43rd year and serve as a benchmark for the Western Australian hospitality industry. Judging is done by an independent panel of anonymous foodies and restaurants must tick the box in a range of categories, including great food, fabulous service and special ambience, to get the nod.

It was reading about this award in the newpaper that led us to seek out the restaurant as it is a bit of a hidden treasure. Step through the gate that welcomes you and what awaits is a stylish and elegant eatery that was converted some 18 months ago from a patisserie to a restaurant that reflects the world of 1920s Shanghai.

Running the length of one wall is a large black and white photo of the Bund, the European precinct of Shanghai in the 1920s. On the other walls are smaller black and white photos and from the ceiling hangs stills of Chinese movie stars from the same era.

Wonderful artefacts are spread around the room and the white linen and elegant table settings add a touch of understated class but were not too formal or stiff to make us feel uncomfortable.

On seating we were greeted by Jenny Shen, the bubbly director and owner of this family-run business.  We later met two of her three girls who were equally friendly and chatty.  Jenny guided us through the menu, recommended some of the specialties and promised us we wouldn't be disappointed.

Up first we tried the Shanghai dumplings which I have since learnt are also traditionally known as Shanghai Xiao Long Bao, and the spring rolls.  Both dishes came quickly and were hot and delicious.  The dumplings were a pleasant surprise as they were silky, moist and succulent and not doughy as sometimes can be the case. The spring rolls were light and crunchy and gone in a blink.  We thought briefly about ordering some more but wanted to save room for the mains.

For the main meal we decided to mix it up and ordered fragrant chicken (roast chicken covered in sauce), the highly prized Patagonian toothfish which arrived lightly fried in a crunchy batter, spicy prawns which were moorish, a vegetable dish of shitake and bok choy which was too pretty on the plate to disturb and steamed rice served in a small wooden bucket.

All of the dishes were wonderfully presented, full of flavour and complimented each other for sharing.

This may be a good time to add that the restaurant is BYO, that's bring your own alcohol for the non-Australians, and means that you are allowed to bring your own alcohol into the restaurant from outside as non is available for purchase on site. We had brought a bottle of wine from home to accompany the Asian food and that went down a treat. For the non-drinker there was Chinese tea which was topped up continuously.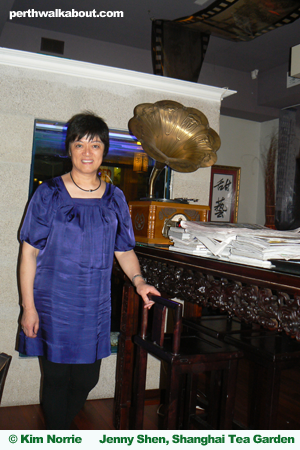 Jenny was true to her claim and along with friendly service, provided a wonderful meal in a place with great ambience.  We left the restaurant not only satisfied but also with the assurance we would be back.

The Shanghai Tea Garden is located at 1/399 William Street, Northbridge and although not super cheap, is a reasonably priced meal for a memorable night out in Perth.  Open from Tuesday to Saturday 11.00am till late. Phone 9227-7066.

Do you have a special place in Perth that you like to eat out at? If so, we would love to hear from you.

Add your comment below.