Details

Category: Perth Restaurant Reviews
Created: Saturday, 02 October 2010 16:05
Published: Saturday, 02 October 2010 16:05
Written by Aaron Koo
To To Traditional Vietnamese Restaurant & Asian Cuisine
873-875 Albany Hwy
East Victoria Park
Phone: 9355 2388
To To Vietnamese Restaurant in Vic Park, Perth has always been one of my favourite restaurants to visit when I am craving Vietnamese food. I believe that this restaurant has a great atmosphere, with good quality food at an affordable price.
If you are looking for a delicious and simple meal, expect to spend around $10 to $15 here. I would advice people in big groups (4 people or more) to make a reservation if you are planning to go during peak hour as it gets very busy. However today when I came for a late lunch at just after 2 pm, the restaurant was not too packed.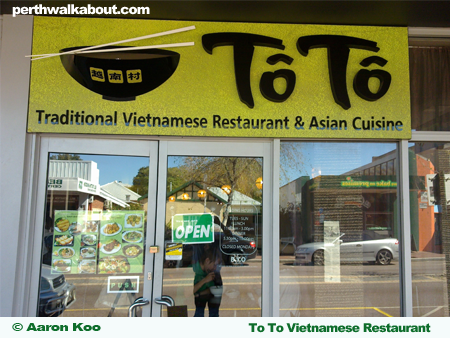 My favourite dish here has always been the Combination Pho, the broth that they serve is delicious and the serving will fill you up very nicely for the bargain price of $11.

Another great thing that I like about To To's is the diversity of their menu, especially if you are coming here with fussy eaters. The menu has a variety of noodle soups, fried noodle dishes, and rice, meat and vegetable dishes that will cater to almost everyone.

If you have a friend that doesn't enjoy Asian food much, you could consider ordering dishes like the fried chicken wings.  For those who are not very well acquainted with Asian food, there are a lot of pictures to give you an idea about what kind of food to expect. However, I believe it will be very hard for To To's to disappoint.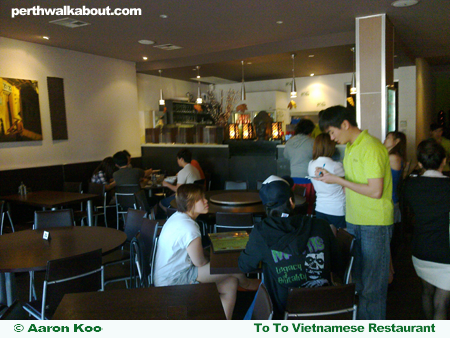 To To's has a variety of Vietnamese desert drinks that is a must-try for all. The drinks range from fruity-types to the rich and creamy. My personal favourite is the young coconut drink; it is very refreshing and not too sweet and rich. For those with a sweet tooth, there are a huge range of shakes and milk-based drinks that I am very sure that you will love.

Here are my recommendations:

Combination Pho

This is a Vietnamese rice noodle soup dish with a combination of cooked beef, raw beef, beef balls and tripe. The broth is made from beef bones and it is fantastic, so far one of the best I have had in Perth. This dish comes with a generous serving of meat and noodles that will definitely fill you up. (Price: $11)

Vietnamese Rice Paper Spring Rolls

The Vietnamese rice paper spring rolls are filled with fresh mint leaves, prawns and noodles. They come with a dipping sauce that goes perfectly with the spring rolls, and you get 2 spring rolls per serve for $4.90.

Chilli Pepper Squid

The chilli pepper squid is one of the crowd favourites! The fried squid is seasoned with salt, pepper and chilli and sits nicely with the palate. This dish is definitely one of the crowd pleasers and a suitable dish to share with a few friends along with your main dishes. (Price: $17)

Overall, I think that To To's is a great restaurant to suit many different occasions, whether you are there to have a nice family dinner, catch up for a meal with friends, on a dinner date or there just to grab a quick meal.

Tasty food, good atmosphere, fast service and good prices. What more could you want?

Got something to say about To To Vietname Restaurant in Vic Park? - please add your comment below.