Details

Category: Places of Interest
Last Updated: Wednesday, 06 April 2011 09:03
Published: Friday, 01 April 2011 20:47
Written by Lee-Ann Khoh
As you go about your day, you may be lucky enough to see some buskers, or street entertainers, doing their best to add some life to the city. It might be a sketch artist or a pair of jugglers today; a family singing and playing folk songs tomorrow. Common busking activities include music, circus tricks, dance, mime, comedy, and visual art such as paintings. A hat, box or musical instrument case typically invites passers-by to leave their tips.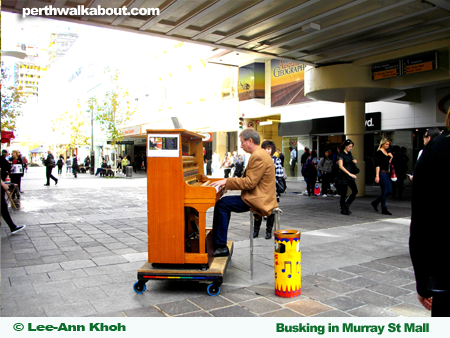 Veteran busker John Gill can usually be found playing his portable piano mounted on a trolley in the Murray Street Mall during the lunchtime rush. His fingers dance across the keys, seemingly with a mind of their own. He glances around at the crowd forming and thanks those who step forward to drop some spare change into his colourful box, his fingers never missing a step. People take photos with their mobile phones. A young boy bops up and down in his pram while his father rocks it gently along to the music. Some people stay for the whole set, while others stop to listen to a piece or two, then move on.
A renowned ragtime and stride pianist who has represented Australia around the world, John began busking in Perth 40 years ago. He still rates the Murray Street and Hay Street Malls as the Perth's best busking spots, but admits things get pretty quiet in the city by about 2pm.
Meanwhile, 18-year-old singer and guitarist David Lazarus has been busking since he was 14, and loves to play under the main bridge of Forrest Place in the Murray Street Mall. "The acoustics are quite good and it's a great spot to draw a crowd," he says. Of course, being talented helps too, but David's melodies and friendly, relaxed demeanour strike the right chord with young and old alike.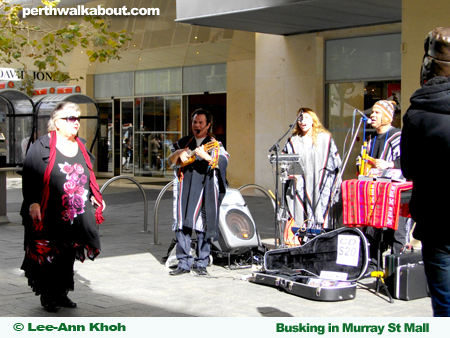 Others prefer the street entertainment culture of Fremantle. Roots musician John Butler has gone on to forge a successful international career with the acclaimed John Butler Trio after gaining exposure and perfecting his craft as a busker in Freo. The lack of license applications and fees to pay make the port city a popular place to busk. They just rock up and start performing.
Freo's reputation as an arts and cultural hub sometimes fosters a greater appreciation of street performers. Just take a stroll along High Street Mall, or browse the Fremantle Markets – Freo comes to life on the weekends, and that's when most of the entertainers come out to play.
Other places where buskers perform include Sorrento Quay Boardwalk in Hillarys, Smart Street Mall in Mandurah, and Subiaco Railway Station.
Despite his youth, David has busked interstate and internationally, including Melbourne, Bondi Beach, Tel Aviv, Hollywood and San Francisco, but is no less a fan of Perth. "What I've found is that no matter where I go, people simply enjoy listening to music and really do appreciate it. It's always rewarding when I see smiles on people's faces."
And if you're planning to busk yourself? John Gill says you'll have good and bad days; it's just the nature of the business. His advice is simple: "Stick to council regulations and be polite to other buskers. Most of us get along very well together."
Do you think busking adds vibrancy to the streets? Are you a busker yourself? What are your favourite busking pitches? Perth Walkabout would love to read your comments.

Other Perth Walkabout Articles

Off the Beaten Track to explore Perth's Laneways

The Best Hidden Cafes in Perth

Murray Street Makes it Mark

Fremantle Flourishes with Harbour Views and Rich History