Details

Category: Places of Interest
Last Updated: Thursday, 23 February 2012 12:19
Published: Thursday, 09 September 2010 20:44
Written by Amanda Kendle

Caversham Wildlife Park
Whiteman Park,
Whiteman, 6068

Ph: (08) 9248 1984


Many visitors head to Australia for our curious wildlife and for those coming to Perth, I always highly recommend a trip to the Caversham Wildlife Park in Whiteman Park. It's a well set-out park with caring, knowledgeable staff and it gives visitors the opportunity to see many Australian animals in relatively natural settings, and even to have some interaction with them. Located on the fringe of the Swan Valley, it's an ideal location to combine with a barbecue lunch in Whiteman Park or with an afternoon or evening at a winery in the Swan Valley itself.



The two main animals that most foreign visitors to Perth seem to want to get their hands on are koalas and kangaroos – the cutest and cuddliest of our unusual wildlife, I guess! At Caversham Wildlife Park they have several koala enclosures so they can rotate the opening times and, since koalas are rather sleepy creatures, the staff supervise so that just one awake koala is getting the public's attention at once. You can stroke their furry backs, but only with the back of your hand, so the oils from your palm don't harm them.

Kangaroos are a lot easier to deal with and there is a park-like walk-through enclosure where you can grab some food pellets and feed one of dozens of kangaroos (usually lying around lazily!). The kangaroo enclosure is often manned by volunteers who can tell you interesting stories about the individual kangaroos. Caversham is also home to some special albino kangaroos, something that even Australians from other parts of the country may not have seen.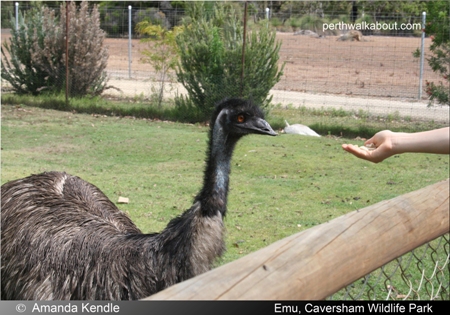 Other highlights at Caversham Wildlife Park definitely include seeing a wombat – if you're lucky, you are sometimes able to hold one too, but they're pretty heavy and the staff (quite reasonably) won't allow children to take a wombat on their lap. The Tasmanian devils are most active in the morning hours and I've seen them chase each other crazily and felt glad that their enclosure wasn't a walk-through one – I've heard they can bite through bone! There are also a selection of particularly local animals like numbats and quokkas which you definitely won't see in other parts of Australia.
Along with the native Australian animals, there is also a farm section at Caversham Wildlife Park, which may not house uniquely Australian fauna but is still a typical part of Western Australian life. You can walk around "Molly's Farm" any time and pat the animals, and several times a day you can watch the Farm Show, which includes sheep shearing, cow milking, lamb feeding and a whole host of activities that city people just don't know much about, and certainly don't see often. The show is put together in a really entertaining way both for children and adults.
If you can, time your visit to arrive earlier in the day when the animals are more active; if you're visiting Perth in summer, then try to avoid the afternoon as it's even hotter at Caversham, far from the coast, than in other parts of the city. But above all, enjoy all the animals and be ready to take heaps of cute photographs!


Have something to say about our unique Australian fauna?

Please add your comment below.