Details

Category: Places of Interest
Published: Monday, 15 December 2008 16:29
Written by Nita Teoh
The Impossible Triangle Part One
An easy starting point for exploring the Claisebrook Cove in East Perth is to walk "The Greenway". The Greenway is a pedestrian path that runs through the Claisebrook Cove area from west to east. The Greenway with its gentle curves following the water is an easy walk which will give you a good feel for the area.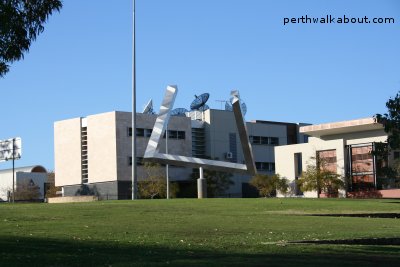 The Impossible Triangle - photo one
Walking along The Greenway pedestrian path, you will be able to spot the "Impossible Triangle" sculpture at the roundabout of Bennett Street and Plain Street in East Perth.
The Impossible Triangle sculpture forms part of Claisebrook Square and had its beginnings when local artists were invited to submit their ideas for a major public artwork commission as part of the East Perth Redevelopment project.
The Impossible Triangle sculpture was created by local artist Brian McKay and architect Ahmad Abas and is based on the "Penrose Triangle" concept developed by the British Geneticist Lionel Penrose and his son Sir Roger Penrose, a Professor of Mathematics in the 1950's.
Is the Impossible Triangle an Illusion?
The illusion of a triangle occurs when the sculpture is viewed along the privileged axis at only two locations.
Check out the sequence of photos below on this page and the next page to see how the Impossible Triangle comes together or does it?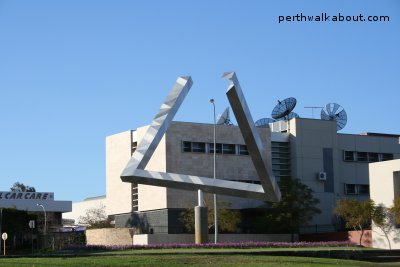 The Impossible Triangle - photo two
Other Perth Walkabout articles
Go to: