Details

Category: Sports & Recreation
Last Updated: Friday, 29 April 2011 11:02
Published: Wednesday, 26 January 2011 18:11
Written by Lee-Ann Khoh
If you turn on the television on a winter weekend in Perth, there's a good chance you'll see some Australian rules football. Commonly referred to as "Aussie Rules" or simply "footy", it is most popular in the southern states of Australia as well as the Northern Territory, but has also gained support in traditional Rugby strongholds such as Queensland and New South Wales. If you hear someone refer to "football" in Perth, they are most likely talking about Aussie Rules.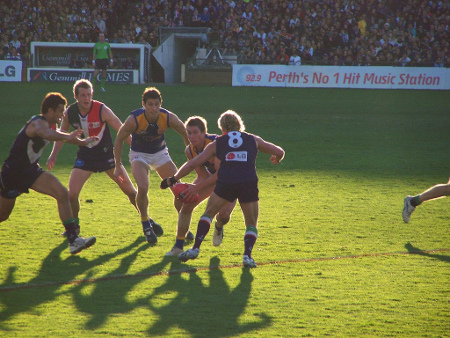 Western Derby
Photo Credit: Flickr/Michael Spencer


Aussie Rules is played with an oval-shaped football between two teams, with 18 players from each team on the field at a time. At each end of the ground, there are four posts, with the two tallest ones in the middle. The two middle posts are the goal posts. A goal is scored when a player kicks the ball into the space between them, across the goal line, at his or her team's attacking end (Own goals are not possible in Aussie Rules). Goals are worth six points. If the ball hits the goal post, travels between the goal post and the shorter post, or is touched before crossing the goal line, the team scores a behind. Behinds are worth one point.

Tom Wills is credited with the invention of Aussie Rules in Victoria in 1858 to help cricketers keep fit during winter. There is evidence to suggest he was strongly influenced by an Aboriginal game called Marn Grook, as well as elements of Rugby and Gaelic football. Aussie Rules gradually spread to other Australasian colonies, reaching WA in the 1880s and growing in popularity throughout the 20th century.

WA has two Perth-based teams in the professional Australian Football League (AFL), which became a national competition after the Victorian Football League (VFL) expanded into other states.

The West Coast Eagles entered the competition in 1987, and in 1992 became the first non-Victorian team to win the AFL premiership. They have since won a further two premierships, in 1994 and 2006, and are overall one of the most successful clubs in the AFL despite finishing last for the first time in 2010. The club is based at Subiaco Oval (Patersons Stadium) and wears predominantly blue and gold.

The Fremantle Dockers' first AFL season was 1995, hailing the beginning of a cross-town rivalry with the Eagles, which is played out in the Western Derby matches each season. While the first Derbies were dominated by the Eagles, the Dockers have evened the ledger by dominating contests in more recent times. The Dockers are based at Fremantle Oval, but plays its home games at the larger Subiaco Oval. Their initial colours were purple, red and green, but as of the start of the 2011 season, now wear purple and white.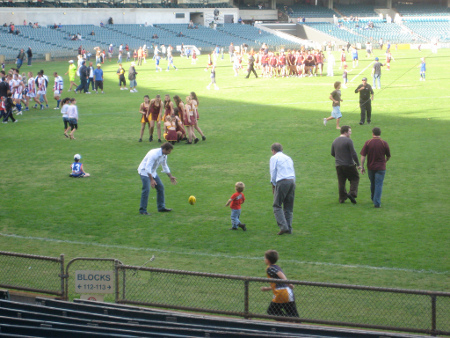 Break during a WAFL game at Subiaco Oval
Photo Credit: Flickr/Nandgate


The other major Aussie Rules competition in WA is the semi-professional West Australian Football League (WAFL). Since the introduction of the Mandurah-based Peel Thunder in 1997, the WAFL has comprised nine clubs based in and around the Perth metropolitan area. These clubs are: Claremont Tigers, East Fremantle Sharks, East Perth Royals, Peel Thunder, Perth Demons, West Perth Falcons, South Fremantle Bulldogs, Subiaco Lions, and Swan Districts.

Each of these clubs fields three teams: the league team, reserves, and colts (under 19s). Games are typically played at the suburban home grounds of these clubs, with matches occasionally held in country regions as part of a WAFL initiative to bring the game to fans in rural areas. Although the WAFL's popularity has suffered since the introduction of the AFL, one of its selling points is that it allows supporters to enter the ground between quarters and have a kick the the football or listen to the coach's address. Conversely, supporters are not allowed to cross the fence onto the playing arena at AFL matches.

There are, of course, other local Aussie Rules competitions at amateur and junior level.

One of the traditions associated with Aussie Rules is the club song. Each team has a song, usually based on an existing old tune, which is played as the team enters the playing arena and after the game if they win. Winning teams also sing the song with gusto in the changerooms after a victory.

The Aussie Rules season generally runs for about six months a year, with the home-and-away season beginning in March, and the finals played during September. However, pre-season matches are played as early as February. Fans are often very passionate about their teams and Aussie Rules dominates mainstream media coverage in WA. Many workplaces also conduct footy tipping competitions, where colleagues try to accurately predict the outcomes and sometimes margins of upcoming AFL matches.

Other Perth Walkabout Articles

Sensational Sports in Perth

Perth Cricket - Cricket Culture in the West

Cool Down, Warm Up or Work Out at Perth's Aquatic Centres