Details

Category: Travel in WA
Published: Tuesday, 23 August 2011 14:04
Written by Emily Cordz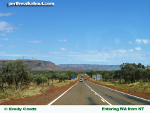 Many travellers who fly to Perth often comment how they would love to travel Western Australia to see more of the State, but everything is so far that the thought of driving there and back in a short amount of time puts them off the idea. If you are one of those travellers, instead of making it a round trip consider making a one way exploration either coming or going from Perth. The two key things you'll need is a car, preferably a four wheel drive to open up you opportunities in the various roads and national parks along the way, and a sense of adventure.