Details

Category: Day Trips
Published: Friday, 16 September 2011 10:00
Written by Vicki Sly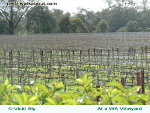 The Swan Valley is a region of land about 25-minutes east of the centre of Perth that is famous for its mix of wineries, farmland, natural bush, historical buildings, scenic rivers and the promise of an unforgettable day out.
It also holds the enviable reputation as being Western Australia's oldest wine growing region as well as the closest wine region to any city in the world.
The town of Guildford, a short 12 km from the centre of Perth as you head towards the hills, is the gateway to the valley and well worth a visit if you have time on your journey.