Details

Category: Historical Places
Published: Saturday, 18 September 2010 01:45
Written by Lee-Ann Khoh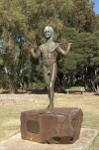 There was no collective name for the many different groups of Indigenous Australians until the British colonists began to call them "Aborigines". Today the term "Indigenous Australians" is used to refer to both Aboriginal and Torres Strait Islander peoples.

Aboriginal people lived in the area now known as Perth for tens of thousands of years before British settlement. The original inhabitants of the South West region of Western Australia, which includes Perth, are the Noongar people.