Details

Category: Transport
Last Updated: Friday, 07 January 2011 10:14
Published: Saturday, 09 October 2010 14:04
Written by Lee-Ann Khoh
Public transport in the Perth metropolitan area is provided by the State Government's Public Transport Authority, under the name Transperth. Transperth's rail network is a popular way to get around Perth.


Here is Perth Walkabout's handy guide on catching trains in Perth:
The train lines that service the Perth area are:
Armadale/Thornlie Line, servicing the south-eastern suburbs
Fremantle Line, servicing the western suburbs (connects to Midland Line)
Joondalup Line, servicing the northern suburbs (connects to Mandurah Line)
Mandurah Line, servicing the southern suburbs (connects to Joondalup Line)
Midland Line, servicing the eastern suburbs (connects to Fremantle Line)

All of these railway lines link the suburban areas to the centre of Perth and vice versa.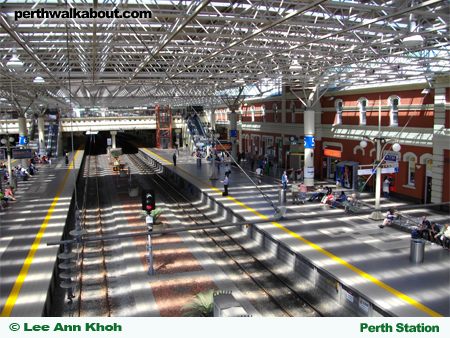 Be aware that there are express services, so not every train will stop at all stations along its route. The train platform displays an electronic sign with all the stops that the next service will stop at, as well as how long until the next train departs.
The Armadale/Thornlie Line
The Armadale Line stops at:
Perth, McIver, Claisebrook, Burswood, Victoria Park, Carlisle, Oats Street, Welshpool, Queens Park, Cannington, Beckenham, Kenwick, Maddington, Gosnells, Seaforth, Kelmscott, Challis, Sherwood, Armadale.
The Armadale Line also stops at Belmont Park for special events only.
You can transfer to the Midland Line at McIver and Claisebrook, or to the Thornlie Line at Oats Street and Cannington. Bus transfers are available from Oats Street, Cannington, Maddington, Gosnells, Kelmscott and Armadale.
The Thornlie Line is a spur line, sharing the same track as the Armadale Line between Perth and Cannington. Its stations are:
Perth, McIver, Claisebrook, Burswood, Victoria Park, Carlisle, Oats Street, Welshpool, Queens Park, Cannington, Thornlie.
Thornlie is also a bus transfer station.
The Fremantle Line
The Fremantle Line stops at:
Perth, City West, West Leederville, Subiaco, Daglish, Shenton Park, Karrakatta, Loch Street, Claremont, Swanbourne, Grant Street, Cottesloe, Mosman Park, Victoria Street, North Fremantle, Fremantle.
For special events at Claremont Showgrounds, the Fremantle Line also stops there. For special events at Subiaco Oval, Transperth usually runs extra services from Perth to West Leederville.
You can transfer to a bus service at Shenton Park, Claremont, Cottesloe and Fremantle stations.
The Joondalup Line
The Joondalup Line stops at:
Perth, Leederville, Glendalough, Stirling, Warwick, Greenwood, Whitfords, Edgewater, Joondalup, Currambine, Clarkson.
Bus transfers can be made at Glendalough, Stirling, Warwick, Whitfords, Joondalup and Clarkson.
The Mandurah Line
The Mandurah Line stops at:
Perth, Esplanade, Canning Bridge, Bull Creek, Murdoch, Cockburn Central, Kwinana, Wellard, Rockingham, Warnbro, Mandurah.
All of the stations on the Mandurah Line also have bus services running from them.
The Midland Line
The Midland Line stops at:
Perth, McIver, Claisebrook, East Perth, Mt Lawley, Maylands, Meltham, Bayswater, Ashfield, Bassendean, Success Hill, Guildford, East Guildford, Woodbridge, Midland.
You can transfer to the Armadale/Thornlie Line from McIver and Claisebrook, and transfer to a bus from Bayswater, Bassendean or Midland.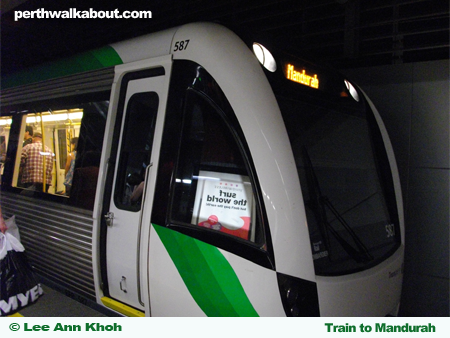 Tickets
You can purchase tickets from the ticket machines located at each train station. Transperth's entire service area is divided into nine zones and fares are determined by the number of zones you travel through during your journey. Buying a ticket entitles you to travel on any Transperth train, bus or ferry within the number of zones specified for the period of time printed on the ticket (two hours for trips of 1-4 zones, and three hours for 5-9 zone trips).
Alternatively, you can purchase a SmartRider, which is probably easier if you intend to use public transport regularly in Perth. A SmartRider is a card that you can use to tag on and off between each leg of your journey. The electronic system calculates the fare and deducts the appropriate amount from the value of your SmartRider. Tagging on or off involves simply tapping the card on the face of the electronic processor located at the train station (or on board the bus or ferry).

SmartRiders can be purchased $10 from one of the Transperth InfoCentres located at Esplanade Busport, Perth Station (Wellington St), Perth Underground Station (Murray St), and Wellington St Bus Station (adjacent to Perth Station). They are also available at other authorised retail outlets around Perth.

An additional amount of $10 must be added to your SmartRider's value when you purchase it. You can top up the value of your card at any of these InfoCentres and outlets (using EFTPOS or cash), by using an Add-Value Machine located at major train stations (EFTPOS), or on board a bus or ferry (cash payment to the driver).
Visit the Transperth website or call the Transperth InfoLine on 13 62 13 for more information. You can use Journey Planner on the Transperth website to work out how to reach your destination.

You may be interested to read Perth Walkabout's Local Area Guide on different places to visit in Perth.