Details

Category: Transport
Published: Thursday, 11 December 2008 12:04
Written by Nita Teoh
Handy Tip on Public Transport around Perth
Just arrived in Perth, Western Australia and need to find your way around? Here are some handy tips on public transport around Perth:
Transperth - Transperth refers to the train, bus and ferry services in Perth which are provided by the Public Transport Authority.
Perth Train Station - A good starting point for finding out about public transport in Perth is to head to the Transperth InfoCentre at the Perth Train Station located near the main entrance on Wellington Street. The Transperth InfoCentre is useful for enquiries about planning your journey, purchasing SmartRider cards, and obtaining information about train, bus and ferry timetables and available concessions.
Fares - Cash fares can be purchased from ticket vending machines located at train stations or by purchasing a SmartRider Card.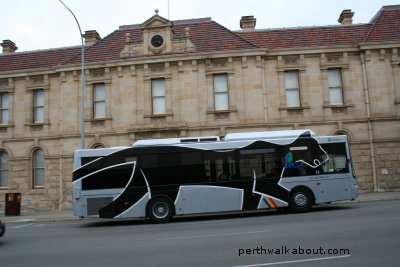 CAT bus
SmartRider Cards - If you are a frequent traveller, SmartRider cards are a more convenient way of accessing train, bus and ferry services than purchasing individual cash fares. Discounts on fares can also be obtained if you purchase SmartRider cards. There are machines located throughout the Station to add value to your SmartRider card. SmartRider cards can be purchased from Transperth InfoCentres or from selected newsagencies which are designated SmartRider Retail Sales Outlets.
Plan Your Journey online - If you prefer to plan your journey using the internet, hop onto the online journey planner at the Transperth website to plan your journey.
CAT buses - The free CAT buses are a handy way of travelling around the Perth CBD, Northbridge, East Perth and West Perth within the Free Transit Zone. The free CAT bus service also runs in Fremantle and Joondalup.
Trains - The SmartRider Free Transit Zone for trains is bordered by Claisebrook station in East Perth and the City West station for West Perth. Note that since the SmartRider Card system came into operation, if you wish to travel the Free Transit Zone by train, you will need a SmartRider card to tag on off at the train stations.
Perth Underground Station - Perth now has its own Underground station. Access is via corner of William Street and Murray Street Mall. It is a short walk between the Perth Underground Station and the Perth Central Station. The Perth Underground is the station for catching the rail to Mandurah.
Perth to Mandurah rail - The Perth to Mandurah rail is the latest addition to the WA train network. The trip takes travellers on a 48 minute ride, 78 kilometre journey from Perth to Mandurah, a bustling city south west of Perth. The inaugural ride to launch the new Perth to Mandurah rail service took place on the 23rd of December 2007
Ferries - There is a ferry service which runs from Barrack Street jetty, Perth to Mend Street jetty, South Perth. Catching the ferry from Perth to the South Perth foreshore to go to the Perth Zoo is a popular day trip.
How to get there
The main entrance of the Perth Central Station is Wellington Street, Perth. The Perth Central Station is a few minutes walk across Wellingon Street from Forrest Place, Murray Street Mall.
The Perth Underground Station is located on the corner of William Street, Perth and Murray Street Mall.
Other Perth Walkabout articles
Cycling around the bridges
Coming Up
Day trip to Mandurah
Go to