Details

Category: Transport
Last Updated: Friday, 14 January 2011 11:14
Published: Tuesday, 19 October 2010 04:06
Written by Lee-Ann Khoh
Transperth is the Western Australian Government's provider of public transport in Perth. While the rail network is a great way to explore Perth, sometimes you might find you need to go somewhere that's not within easy reach of the train station. That's where Transperth's bus services come in.

You can find all the bus routes and times on the Transperth website
or call the Transperth InfoLine on 13 62 13 for more information.
Paper timetables can also be picked up at the Transperth InfoCentre at Esplanade Busport, and often at the front of the bus next to the driver. Use the Journey Planner on the Transperth website to work out how to get to and from your destination.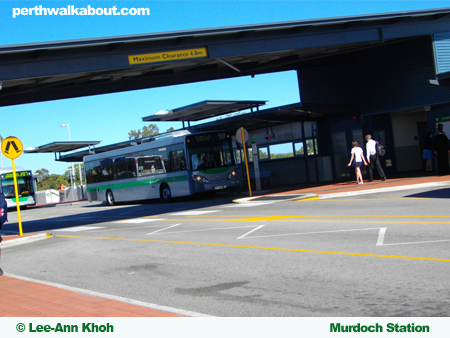 If you are not waiting at a major bus stop or station, you may need to signal the driver to stop for you as the bus approaches. When you want to alight, press the bell (the red buttons on most buses, or the black strip above the window on older buses) before your stop. Ask the driver if you are unsure of where to get off.

The Perth public transport service area is divided into nine zones and Transperth fares are based on how many of these zones you travel through on your journey.
Make sure you are carrying change or small notes with you if you are buying a ticket from the driver. Tell him/her where your final destination is and they will be able to calculate how much you need to pay. This ticket allows you to travel on any Transperth train, bus or ferry within the number of zones specified for the period of time printed on the ticket (two hours for trips of 1-4 zones, and three hours for 5-9 zone trips).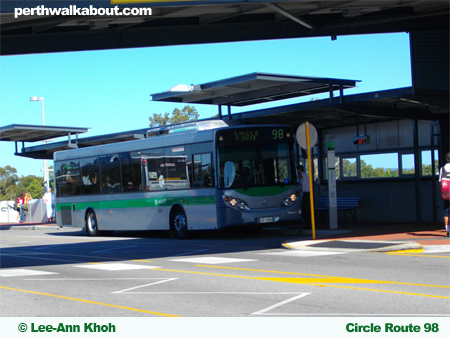 There are two notable exceptions to these fare rules:

Travelling within the boundaries of Perth city is free.

If you are only travelling on a CircleRoute bus (98 or 99, with no transfers), you will not be charged for more than two zones.

A popular alternative to buying a cash ticket, and something that is very useful if you plan to use a lot of public transport in Perth, is a SmartRider. This is a card that you tag on and off between each leg of your journey. The appropriate fare is then subtracted from the value of the card. There will be an electronic processor at the front of the bus when you get on or off, as well as at the rear exit of the bus. Simply tap the SmartRider on the front surface of this processor to tag on or off. Ask the bus driver if you are unsure of what to do.

You can buy a SmartRider from any Transperth InfoCentre – Esplanade Busport, Perth Station (Wellington St), Perth Underground Station (Murray St), and Wellington St Bus Station (adjacent to Perth Station) – as well as various authorised retail outlets. A standard SmartRider costs $10 and an additional $10 must be added to its value at the time of purchase.

When you tag on/off, the electronic processor will warn you when the balance of your SmartRider card is low. You ask the bus driver to top up the value of your SmartRider using cash. Alternatively, visit a Transperth InfoCentre or authorised outlet (cash and EFTPOS allowed) or use one of the Add-Value Machines at major train stations (EFTPOS).

You may also be interested to read our other article Perth Walkabout's Handy Guide to Catching Trains in Perth.