Details

Category: Travel in WA
Last Updated: Friday, 15 July 2011 09:10
Published: Monday, 04 July 2011 10:57
Written by Vicki Sly
Fancy swapping your winter woollies for a stint in your bikinis, board shorts or budgie smugglers?  Then you may need to head north to thaw out in the sun.

Broome is considered one of Australia's most popular beach holiday destinations and is located 2200 km north of Perth.

Its tropical weather entices travellers all year around with the best time to visit in terms of temperature, being the dry season which runs from May to October.

The popular dry offers temperatures usually in the late 20s to the low 30s (in Celsius). The humidity is also at its lowest at this time and so more comfortable for those who may not be use to the sticky weather associated with the tropics.

Apart from wonderful weather, Broome has a colourful historical past, amazing natural wonders, cosmopolitan food and restaurants, fun shopping (especially for pearls) and pristine turquoise blue water.

What to do in Broome depends on your time frame and tastes but here are some suggestions that are popular with travellers short on time.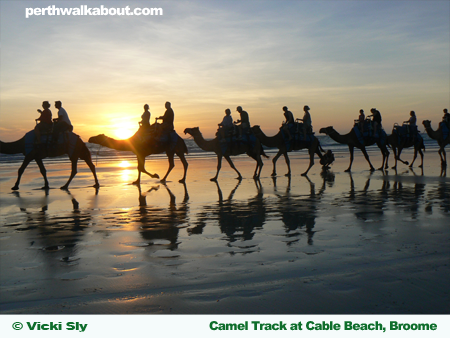 Cable Beach

You can't come to Broome and not visit Cable Beach.  It's like going to Paris and not visiting the Eiffel Tower.

This 22 km wedding-dress white beach fringed by the turquoise waters of the Indian Ocean is popular for swimming, surfing, sunbaking and sundowners.

There are places to hire umbrellas and chairs, as well as surfboards just at the base of the surf club. But if you have your own wheels and want to get away from the crowds, cars are allowed along certain areas of the beach when the tide is out so you are free to drive for miles to find your own piece of sandy paradise.  There are even spots to "get naked" if that is your thing!

One of the quintessential Broome experiences on Cable Beach is a camel trek. There are a number of companies offering three timeslots a day; sunset being the obvious choice for many.

Gantheaume Point

A short drive out of town is Gantheaume Point, one of Broome's major historical sites and a great place to watch the sun set on the infamous ochre cliffs of the Kimberley region.

On very low tide the 130 million-year-old tracks of a dinosaur can be seen at the base of the rocks but if you can't make it there on low tide, a cast has been made and placed higher up on the cliffs.

Gantheaume Point also has an unusual natural rock pool carved out of the cliff. Anastasia's Pool was built by a former lighthouse keeper for his wife who suffered with arthritis.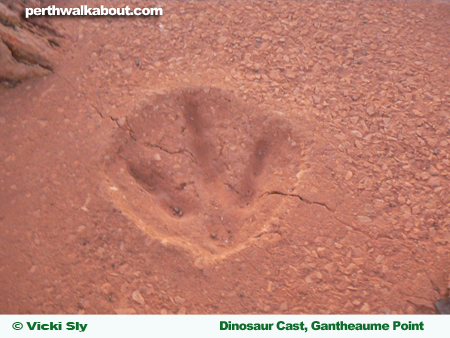 Stairway to the Moon

Stairway to the Moon is a natural phenomenon that occurs when the full moon reflects off the mudflats of Roebuck Bay at low tide to create the illusion of a set of stairs leading to the moon.  This phenomenon only occurs for about three days after the full moon between March and October.

To coincide with the viewing, there is a night Moon Market with a mix of stalls, including local cuisine.  The calendar for the event is known in advance so you can check with the Broome Visitor Centre for dates if you wish to tie in your holidays.

Broome Courthouse Markets

Speaking of markets, the Broome Courthouse Markets are a great place to do some shopping and sample some local wares.  I would highly recommend the frozen mango crush for an instant brain freeze.

The markets operate throughout the year on a Saturday and this extends to a Sunday through the dry season (April-October). Opening hours are 8.00am to 1.00pm.

There is plenty of art on display, as well as photography and crafts, food and drinks, clothing and jewellery and buskers offering lay-back entertainment.

Sun Pictures Outdoor Theatre and Chinatown

Sun Pictures is famous for being the world's oldest operating picture garden.  It opened in 1916 with a silent movie, English racing drama 'Kissing Cup', and still shows films nightly.

The experience is made all the more authentic with the sundeck chairs, chocolate bomb ice-creams and low-flying aircraft. Take time to check out the historical photos and equipment in the foyer.

The theatre is set in the heart of Chinatown which was once a mix of buildings dedicated to the historical pearl industry – boarding houses, work sheds, hotels and eateries.  The area is now a shopping hub and includes some great fashion houses, craft shops, cafes, restaurants, and of course, the infamous pearl emporiums that Broome is famous for.

Have you been to Broome and want to share your experience?
Add your comment below.

Other Perth Walkabout Articles

Perth City and Surrounds

Perth Day Trips

Fair Dinkum Mate, Aussie Slang's the Ant's Pants