Details

Category: Local Area Guide
Published: Wednesday, 01 December 2010 13:45
Written by Vicki Sly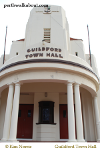 Guildford is old – not in the tired, worn out sense, but old as in filled with heritage-listed buildings and a sense of history not always associated with Perth.

Established in 1829, it is one of three towns founded during the settlement of the Swan River Colony and was chosen for its location on the river and its close proximity to fresh water at Success Hill. The entire town itself has been listed by the National Trust.