Details

Category: Accommodation
Published: Wednesday, 24 October 2012 10:46
Written by James Cave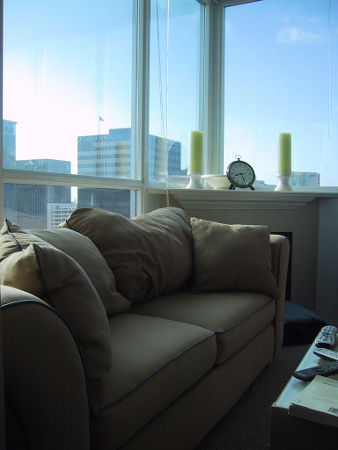 Dave's Couch
Photo Credit: Flickr/Grant Hollingworth


Hotels are functional, but every now and then you want something different; something a little more exciting on your holiday. Thanks to the internet an increasing number of options for accommodation in Perth are now available in and around the city.
House Sitting
House sitting can be a great way to stay in an area. The obvious benefit is that there are no accommodation charges, which anyone regardless of their budget, will no doubt be happy about. If you like pets, and for many people this is something that they miss when they travel, you will likely find a large number of housesits where the responsibilities include looking after pets and other animals.

In Perth, with dog walking as a responsibility, this can be a great way to experience new parts of the city such as local parks and nature reserves.
Apartment Rental
In the past, and really not that long ago, booking an apartment meant getting in contact with a holiday rental company who would then book you in for a week at a time. Often there were restrictions about what day you could arrive and what day you could leave, not to mention a number of additional costs such as cleaning and deposits.

These days more and more people are turning to peer to peer (P2P) apartment rental services like AirBnB which put you as a traveller directly in contact with people who have apartments to rent, or sometimes even just a spare room. Everything is done online, and with Average Joes able to put any property online you can often find quirky properties, everything from castles and treehouses to rooms in yoga retreats and more.
Colonial Accommodation
Fremantle is one of Perth's most vibrant and happening areas. It's also home, literally, to some of the city's quirkiest accommodation – Fremantle Colonial Accommodation. Here you can stay inside a prison cottage which was built by the prisoners within Fremantle prison in the late 19th century. The properties have been renovated to the style that they were first built in and so provide a fantastic insight into what life in Perth was like many years ago.
Couchsurf
Couchsurfing is a phenomenon that has grown steadily over the past few years. The concept is simple: if you have a bed, or couch, or even a spare bit of floor you can offer it out to strangers. In return, when you go travelling, you can expect people to do the same for you.

Couchsurfing is a system based on trust so may not be for everyone, but for those looking for something a little more different it's another option to have in the bag.
Stay At A Secret Spa
Located just 40 minutes outside of Perth the Hidden Valley Eco resort offers private lodges with spacious accommodation, excellent facilities and convenient access to the day spa. All of the lodges have forest views and are designed to be as relaxing as possible. With its close proximity to Perth, it makes an ideal stop-off after a few days of hectic exploring in Perth.


For more Related Articles, please scroll to the bottom of this page.
If you enjoyed this article, please share it!