Details

Category: Sports & Recreation
Published: Wednesday, 26 January 2011 18:11
Written by Lee-Ann Khoh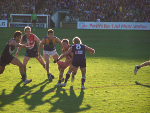 If you turn on the television on a winter weekend in Perth, there's a good chance you'll see some Australian rules football. Commonly referred to as "Aussie Rules" or simply "footy", it is most popular in the southern states of Australia as well as the Northern Territory, but has also gained support in traditional Rugby strongholds such as Queensland and New South Wales. If you hear someone refer to "football" in Perth, they are most likely talking about Aussie Rules.