Details

Category: Sports & Recreation
Last Updated: Friday, 26 August 2011 09:07
Published: Saturday, 12 March 2011 21:42
Written by Vicki Sly
Perth has a plentiful number of dog beaches and parks where you can take your dog to walk and play.
Being a visitor or newcomer to a city often calls for searching out and finding all of your favourites from scratch, be it favourite coffee shop, book store, restaurant or for your dog, favourite place to take a walk.
Finding a route that you and your dog can use and enjoy on a regular basis can be the difference between a happy chappy and a mooching pooch.The first thing you need to decide is the type of walk that would suit your dog, i.e. on a lead or not, close to water so your dog can swim, in a park so your dog can socialise or as far away from all other dogs as possible.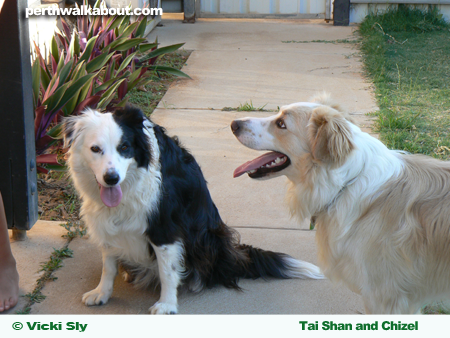 I became dog owner for the first time last year and as my dog was rescued from SAFE (Saving Animals from Euthanasia) when we met I didn't know his personality well or whether he was good with other dogs or not. It turns out that he wasn't very social at all.

It is in circumstances like this that you may need a few options up your sleeve. If you head to the park and it is crowded with other dogs that your pet is only going to fight with then you might have to go for plan B or choose a different time of the day to walk your dog.

The best reference point to start with is your local council that will have a map outlining the designated areas where your dog can walk on a lead or off a lead. If you are new to an area, your dog will need to be registered with your council and a small fee may apply.

Most councils in Perth have reserves and dog exercise areas and these will often have "pooch pouches" available for you to clean up after your dog so there is no excuse to leave behind what others don't want to stand in.

Remember also that you dog needs to be kept under control and that not everyone is comfortable with being approached by an unrestrained dog that they don't know. Most dogs are also not allowed to run freely in parks that are set up as children's playgrounds or at sporting grounds if there are games or training in progress.

It pays to visit the same place a number of times with your dog on a lead until you and your pet become comfortable with the new surroundings and aware of what other dogs may use the same walk at the same time.

If you are a beach lover, Perth has a number of dog friendly beaches that are a great way for your pet to have a run and a swim. These are usually well populated so normally only recommended for dogs that are sociable and won't be aggressive towards other dogs or their owners.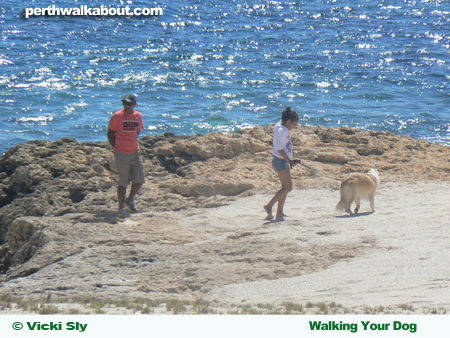 Some of the main beaches in Perth that welcome dogs include:

North

Extending northwards 200 metres from the City of Stirling's southern boundary at Peasholm Street, South Scarborough.

Between Kathleen and Bennion Streets, Trigg.

Between Castle and Margaret Streets, North Beach.

South of Pinnaroo Point, Joondalup.


South

The northern end of South Beach (between Marine Terrace and the Fremantle Sailing Club) in Fremantle.

Leighton Beach (area north of railway footbridge), Port Beach Road, North Fremantle.

C.Y. O'Connor Beach, Cockburn.

Mosman Beach, between Beach Street Groyne and the City of Fremantle boundary.


Central

North Floreat Beach north of the storm water drain opposite Oban Road, City Beach to the boundary of City of Stirling.

North Cottesloe dog beach, Cottesloe.

South City dog beach, Swanbourne.

Perth is a great place for walking your dogs as we are lucky to have a lot of open space in comparison to cities in other countries.


Other Perth Walkabout Articles

Local Area Guide - Perth Suburbs

Perth Beaches - Paradise on Your Doorstep

Perth is One of the Most Liveable Cities in the World