Details

Category: Arts & Culture
Published: Thursday, 28 April 2016 07:32
Written by Nita Teoh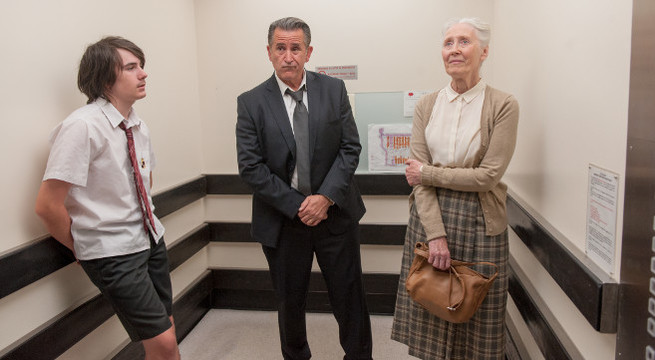 Frank Jnr (Indiana Crowther), Frank Mollard (Anthony LaPaglia), & Sarah (Julia Blake) in A Month of Sundays
Well known writer director Matthew Saville (Please Like Me, The Slap, The Secret Life of Us) brings to audiences his latest movie "A Month of Sundays".

The Aussie movie is based around the main character Frank Mollard (Anthony LaPaglia), who encounters a funny incidence of receiving a phone call from his "Mum", even though his Mum past away last year.

From there, the movie unfolds introducing Frank's somewhat mundane, ordinary life working as a real estate agent, and surrounded by the people in his life including his boss Phillip (John Clarke), his "Mum" Sarah (Julia Blake), his ex wife Wendy (Justine Clarke), and his son Frank Jnr (Indiana Crowther).
Throughout the movie, we hear Frank's funny insights into the real estate game, as told through a running dialogue being played out in his mind, as he goes about the grind of daily life.

A Month of Sundays is a feel good movie, where you'll get lots of hearty laughs as you follow Frank on his daily encounters with life. He nurtures new friendships, as well as works on his existing relationships, all the while revealing his emotional vulnerability with those that he cares about.
From a visual perspective, the movie was light and bright throughout, and I enjoyed the style of filming in a way that one felt as if you were right in the room along with the characters as the scenes played out.

The movie has a nice, relaxed feel and coming in at just under 2 hours, the time went by quickly as events progressed towards the closing scene.
In summary, A Month of Sundays is a satisfyingly feel good Aussie movie with a good dose of reality sprinkled throughout with some very funny laugh out loud moments and reflections on life.

A Month of Sundays will be showing at Cinema Paradiso in Northbridge, and Luna SX in Fremantle from the 28 April.
If you enjoyed this article, please share it!
Find out about the hottest events around Perth, by following us at @PerthWalkabout