Details

Category: Arts & Culture
Published: Tuesday, 05 July 2016 08:07
Written by Lee-Ann Khoh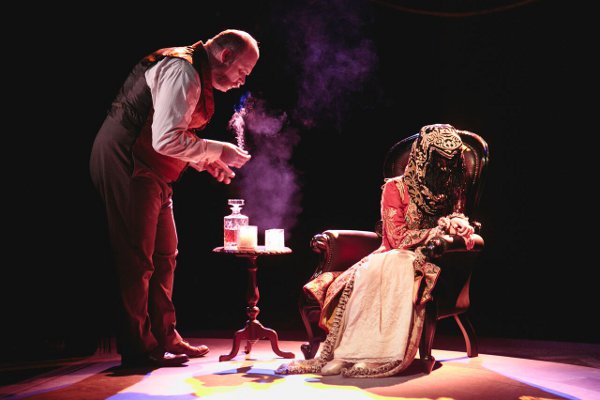 Photo Credit: Daniel James Grant and Black Swan State Theatre Company


Haunting squeals and whistles echoed around the room as the audience descended into the theatre for the opening night of A Perfect Specimen. On a dimly lit, two-tiered circular stage stood three A-frames, featuring provocative headlines like Behold! The Monkey Woman. Then Theodore Lent (played by Luke Hewitt) emerged from the curtains, tapped his cane sharply on the ground and – in an ominous, booming voice – invited us to the show.
A Perfect Specimen, by Perth-born award-winning playwright Nathaniel Moncrieff, is inspired by the true story of Julia Pastrana. She was born in the 1830s with hypertrichosis and gingival hyperplasia, which resulted in hair that covered her body, as well as enlarged gums and irregular teeth. Dubbed the "Bear Woman" and an "ape", among other things, Julia travelled the world as part of a freak show managed by her husband – Theodore Lent.
The play is set during a tour in Russia, when Julia discovers she is pregnant. She prays the child will not be born with her condition, but hopes the baby will convince Theodore to quit show business and start a peaceful new life with her in Vienna. However, Theodore – who has spent years using his wife for financial gain – has other ideas.
I was captivated by the set design, harrowing sound effects and strong performances from the whole cast whilst watching this powerful play. Interestingly, Julia's (Adriane Duff) physical appearance does not match the way she is described by the other characters. I found myself wondering if this was done to show the audience that – despite how she was perceived based on her looks – Julia was beautiful on the inside.
Although the play is set in the 19th century, its exploration of greed and morality is remarkably poignant even today. Vulnerable members of the community continue to be exploited. We continue to be fascinated, scared and repulsed by difference, and by things we don't understand. Audiences going to see A Perfect Specimen can expect a thought-provoking production that stays with them long after they've left the theatre.
A Perfect Specimen, presented by Black Swan State Theatre Company, is on until July 17 at Studio Underground, in the State Theatre Centre of WA.
If you enjoyed this article, please share it!