Details

Category: Arts & Culture
Published: Friday, 02 February 2018 12:25
Written by Greg Letts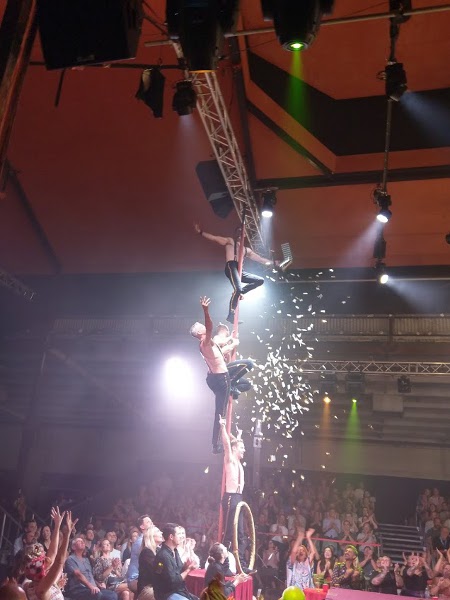 Club Swizzle, at the Ice Cream Factory, Fringe Festival, Perth
Photo Credit: Nita Teoh

After three sell-out seasons at Fringe World Perth, the creators of La Soirée could be forgiven for sticking with a winning formula and bringing La Soirée 4.0 to Perth in 2018, no doubt to further packed houses. But what would be the fun in that?
Introducing Club Swizzle, which takes out the small circus ring and introduces a combined bar and runway for the performers to jump, strut, roll, spin and prowl upon. This gives Club Swizzle a more relaxed, loose feel compared to the confined intensity of La Soirée. Whereas La Soirée showcased performers at the top of their game along with a little raunch and risqué (ok, more than a little!), Club Swizzle has the same excellence of execution but this time the cast seem to be having a lot more fun with each other and with the audience. Must be all the alcohol!
The evening kicked off with host Reuben Kaye quickly hitting his stride and setting the tone for the night. His program notes describe him as "the evil love child of Liza Minnelli and Jim Carrey", but I think he is channelling a bit of Dr. Frank 'n' Furter as well! Flamboyant, fearless and funny, he can hit the high notes whether in song or jest (but he's not above plumbing the depths either), and can elicit laughter or terror from the audience at will, sometimes both at the same time!
As in any review, you want to give readers a taste of what to expect but without spoiling the show. So here's a quick one line summary of some of the acts we witnessed:
The Swizzle Boys: strong, sexy, spunky and silver. You figure out which is which!

Amy G: (Beforehand) OMG she's not going to do that?! (Afterward) How did she do that?

Laurie Hagen: Phew! I need a drink to cool off after that, but I think I had better not stand up just yet...

Dandy Wellington: Shake it off! Louis Armstrong would be dancing in his grave.

Yammel Rodriguez: Smoking hot and smoulderingly seductive with mind-spinning acrobatics.

Reuben Kaye: Gloriously funny but please please please don't pick me for the audience challenge!
Not recommended for the faint of heart or prudish. Required viewing for the rest of us!
If you enjoyed this article, please share it!
To find out about the hottest events around Perth, follow us at @PerthWalkabout