Details

Category: Arts & Culture
Published: Wednesday, 20 June 2018 12:00
Written by Greg Letts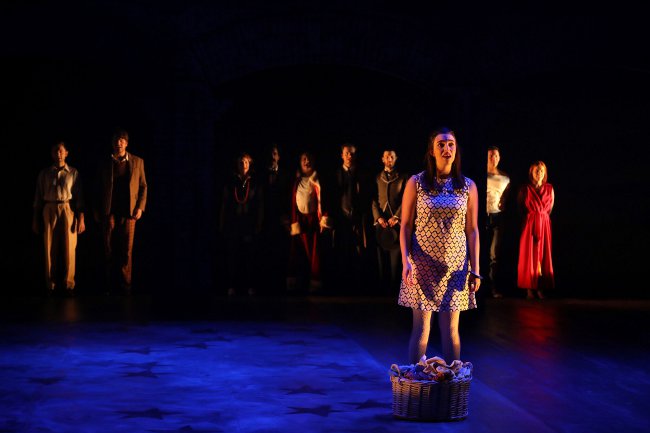 Assassins, Black Swan State Theatre Company
Photo Credit: Philip Gostelow
Why did they do it? is the question that people ask when discussing the latest of America's all too frequent mass shootings. In a country where the disaffected and mentally unstable have easy access to firearms, is it any surprise that some will aim their sights higher than the common public and instead target the leader of the country?
Who were they? is another common query. Stephen Sondheim's 1991 creation, Assassins, showcases the lives and explores the motives of the USA's successful and failed presidential killers. It is a disturbing juxtaposition considering that modern day America is trending towards suppressing the names of mass shooters to deny them any perceived fame or glory, erasing them from history. Instead, in Assassins we are treated to 100 minutes of song and dance as the assassins claim that their names will be permanently etched in the American psyche. Perhaps so, but Assassins is far from a celebration of this group, exposing the grudges, derangements and self-serving excuses that led to their tragic actions. Who can say which approach is better?
In any case, Sondheim's decision to lift the rock and peer underneath at the corruption below makes for entertaining theatre. Using a little poetic licence here and there, Sondheim deftly weaves a tale into existence, linking the widely disparate individuals together. With America's first assassin John Wilkes Booth as their leader, this group brings members from both the future and the past to achieve their crowning moment, the assassination of John F Kennedy in Dallas, 1963.
The Black Swan State Theatre Company have done very well in producing and performing this dark and dangerous work, with the performers all hitting their stride and providing some wonderful vocals along the way. There is plenty of black humour thrown in for good measure, and perhaps the highlight of the show was the scene where Charles Guiteau (Will O'Mahony) faces the gallows accompanied by the Balladeer (Finn Alexander), although it faces strong competition from the tense scene in the Texas School Book Depository and the subsequent psychotically angry rendition of Another National Anthem.
Once again, the set and lighting do justice to the play. I must say that it has become something of a tradition for my partner and I to take our seats and enjoy looking around each production's set to see what world has been created for us to enjoy, before the action begins. One minor quibble is that when the band is in full flow, they do tend to drown out the vocals a tad, which makes it a little difficult to follow along.
The musical is not comfortable viewing, but it is definitely entertaining and for a work written in 1991, all too relevant to modern times.
Assassins by Black Swan State Theatre Company is showing at the State Theatre Centre of WA until 1 July.
If you enjoyed this article, please share it!
To find out about the hottest events around Perth, follow us at @PerthWalkabout