Details

Category: Arts & Culture
Published: Thursday, 23 July 2015 08:12
Written by Greg Letts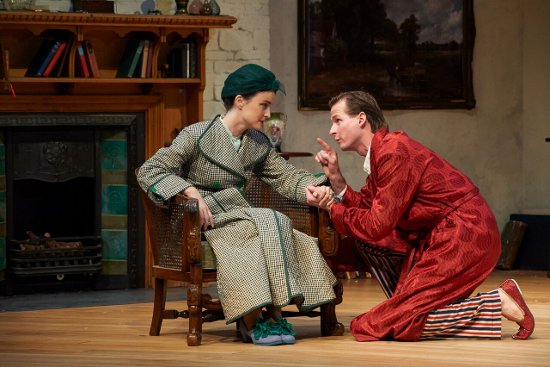 Adriane Dafe & Adam Booth in Blithe Spirit
Photo Credit: Gary Marsh Photography & Black Swan State Theatre Company

"The show must go on" is a well worn theatre cliché, but it was entirely appropriate for Black Swan State Theatre Company's second preview of Noël Coward's Blithe Spirit on Monday night. Roz Hammond, the actress portraying the pivotal character of Madame Arcati, was struck down by a severe illness. What to do? Why, send for Alison Van Reeken, last seen in Black Swan's production of Dinner, who stepped into the breach and onto the stage that night with script in hand and one solitary rehearsal under her belt.
Despite her lack of preparation (or perhaps inspired by it?) Van Reeken turned in a powerhouse performance which had the audience in stitches and even her fellow cast members apparently struggling to keep a straight face at times. While most of us would be hard pressed to even read the play out loud without errors, Van Reeken's Madame Arcati prowled around the stage, juggling the demands of script, cues, stage placements and performing with ease. It was fresh, fun and almost flawless – major kudos to Van Reeken who received more than one well deserved cheer when departing off stage at the end of each of her scenes.
One can only imagine what chaos replacing a major character with an unprepared actress who is reading from the script must have caused to the rest of the cast and crew. But everybody rose to the challenge with aplomb, keeping everything on the rails masterfully. Coward's light comedy masterpiece was delivered with poise and precision throughout. In fact, the only other hitch in the preview was with some special effects that I think decided to go off a little prematurely, robbing poor Charles Condomine (Adam Booth) of the full effect of his concluding comedic monologue. Perhaps a lingering playful poltergeist at work?
Major illness and minor technical hitches aside, Black Swan's production of Blithe Spirit is a wonderful night's entertainment, and highly recommended. With a fine cast, terrific set and sumptuous costuming (as always!), it is a great night out. And I must admit that it was quite a privilege to have seen Alison Van Reeken's first take on Madame Arcati, no doubt future nights will be more polished but her first energetic raw cut was a true diamond in the rough.
Blithe Spirit by Black Swan State Theatre Company is now showing till 9 August.
If you enjoyed this article, please share it!
Greg Letts is a ping pong coach and an entertainment reviewer by night.

To get the insider's perspective on upcoming events at Perth, follow us @PerthWalkabout