Details

Category: Arts & Culture
Published: Thursday, 01 September 2016 10:25
Written by Nita Teoh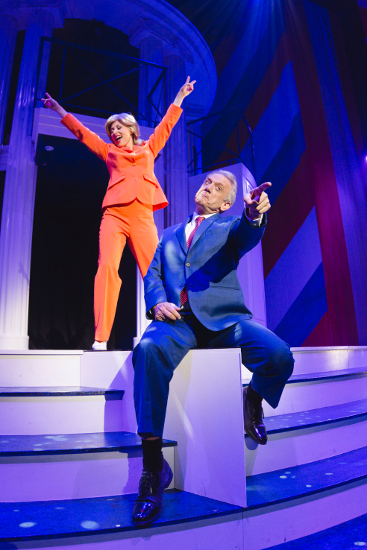 Lisa Adam and Simon Burke, Clinton: the Musical
Photo Credit: Daniel James Grant and Black Swan State Theatre Company


Anyone for a musical centered on the theme of politics?
An interesting topic choice for a night of songs, my partner and I thought, as we headed into the State Theatre Centre of WA to watch Black Swan State Theatre Company's latest extravaganza - "Clinton – the Musical".
Fresh off the New York Times Critics Pick and nominations for Best New Musical, Clinton is a clever night of music and song crafted by Australian playwriters, Paul Hodge and Michael Hodge.
As the performance commenced, it shaped up to be a ripper of a night as characters on the political floor namely Bill and Hilary Clinton from the Democrats vs Newt Gingrinch and the Republicans sparred in the media spotlight.
It was entertaining in a light and bright way, with a constant stream of some seriously hilarious lines that reflect the shenanigans and goings ons of a crazed political arena.
Black Swan State Theatre Company again brings to the fore a contemporary approach with its presentation of a very stylish and slick musical performance. One interesting challenge of a musical is the ability of the actors and actresses to balance the interplay between the execution of lines as you would in a normal theatre play, as well as to sing a range of songs that allow the musical to flow along smoothly. It was very impressive to hear the singing prowess of all the cast who hit all the right notes.
The dual personalities of Billy and William Clinton made for an interesting angle to the portrayal of Bill Clinton, and both Bill's interplay with Hillary Clinton made for a very entertaining dialogue.
Besides the slickness and false facade of politics, the play reveals an underside to people, that perhaps under all that ridicule we are all just human and we should perhaps take a second look at the way we portray ourselves, and it is ok to let our guard down and show the true person underneath. It's good to have a laugh at our own expense, at the ridiculousness of the serious adult world that we live in.
The shenanigans of Clinton – the Musical zipped along at a cracking pace and with a short intermission of 20 minutes, the night's performance ended all too soon for the appreciative crowd.
Breaking News: It was a fun filled and entertaining night for all. Go watch Clinton – the Musical - a clever musical filled with sharp tunes, sharp shooting character portrayals, and razor sharp comedy.
Clinton – the Musical is on till 11 September and is a nice topical one in the lead up to the US elections.
If you enjoyed this article, please share it!
Find out about the hottest events around Perth, by following us at @PerthWalkabout