Details

Category: Arts & Culture
Published: Wednesday, 13 November 2013 13:15
Written by Greg Letts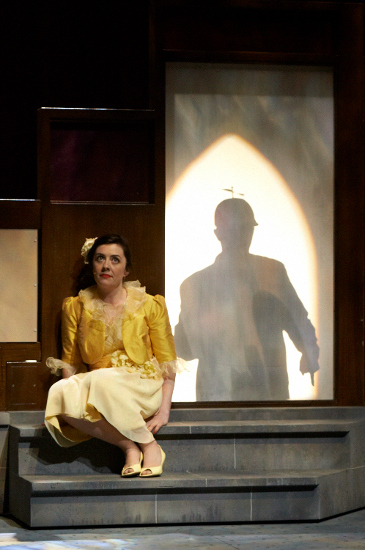 Georgina Gayler as Helena in Midsummer
Photo Credit: Gary Marsh Photography and Black Swan State Theatre Company

When a play has you watching a girl in a canary yellow bridesmaid dress and high heels potraying an elderly Scottish crime boss chasing the hero through the streets and parks of Edinburgh, and it all seems perfectly normal, then you know you are watching something out of the ordinary.
And yet Midsummer (a play with songs) showing at Black Swan State Theatre Company is far from being a wacky off the wall comedy. It's firmly grounded in the tragedy of hitting 35 and realising that you've left it too late to achieve your dreams, and things are all downhill from here. From that dark premise playwright David Greig manages to build an impressive amount of laughter inducing scenes, including a bit of "puppetry of the penis", Japanese rope bondage, getting ripped off in car parks, and finally saying what we'd all like to say at weddings and getting caught out!
With a show like Midsummer, where the whole enterprise is carried on the backs of just two actors, there's no supporting cast to fall back on for support. Fortunately, right from the start, where our hero (Brendan Hanson as Medium Bob) and heroine Helena (Georgina Gayler) meet up in a Edinburgh wine bar, we can see that our intrepid duo are up to the task. The opening scene is a triumph in itself, firmly establishing the personas of Bob and Helena amidst a torrent of laughs. The attraction is instant, and throughout the play I can see without a doubt that these two characters really do like each other - their scenes together really sparkle.
And when the play calls for one of the actors to transform into a supporting character, they manage to pull it off with a mixture of silhouetting, props and puppetry. Medium Bob's talk with "Little Bob" nearly brought the house down, not to mention a tear to my eye. Every scene is mined for comedy potential - even a slow moving electric window is funny when treated the right way. And the use of Elmo brought nods of recognition from every red-blooded man in the audience!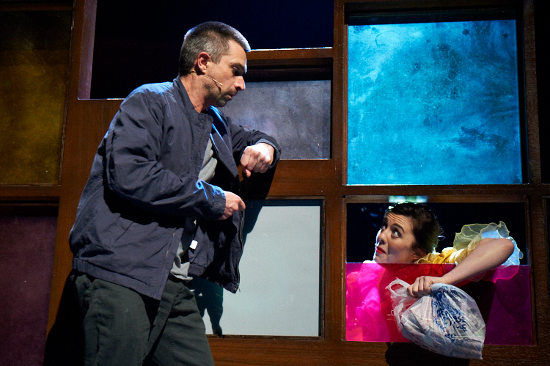 Brendan Hanson as Medium Bob and Georgina Gayler as Helena in Midsummer
Photo Credit: Gary Marsh Photography and Black Swan State Theatre Company
Suffice to say that Midsummer is a terrific night of comedy gold, and the Black Swan crew should take a bow. But special mention should also be made of the set and lighting designers (Fiona Bruce & Trent Suidgeest), who have a produced a set which transforms in seconds from a wine bar to an apartment to cathedral steps to a bondage club to the streets of Edinburgh, allowing the action to flow around it without a pause. It's both effective and great at maintaining the immersion of the audience. And a final note(!) to the Ben Collins and his band of merry musos off to the left of stage, who seamlessly bring Gordon MyIntyre's music to us without missing a beat.
Oh yes, Midsummer is a musical of sorts. But the songs fit together with the production so well that they seem more like a natural part of the play, rather than your typical musical where the action stops while the songs are being sung.
Comedy, a bit of tragedy, music, wine, laughter and song. What more could you want from a night out! Head down to the State Theatre Centre and get a little taste of Scotland while it's hot.
If you enjoyed this article, please share it!