Details

Category: Arts & Culture
Published: Wednesday, 13 August 2014 09:59
Written by Nita Teoh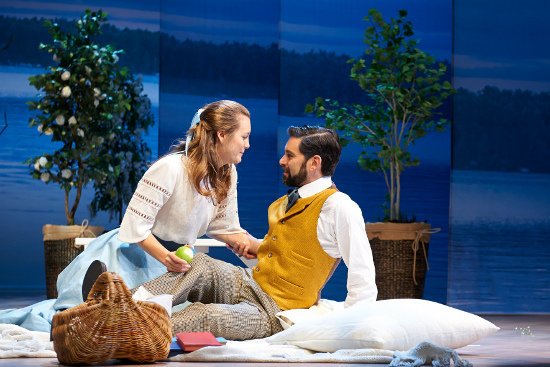 Leila George (Nina) and Ben Mortley (Trigorin), The Seagull
Photo Credit: Gary Marsh Photography and Black Swan State Theatre Company
This month, Black Swan State Theatre Company brings to theatre goers in Perth their production of The Seagull. The play by Anton Chekhov is a classic, with this season's production using a new adaptation by Hilary Bell.
There is more than meets the eye in this play, and although the lake setting is beautifully tranquil, the action on stage is passionate and dramatic, as the audience is quickly swept into the turmoil of the characters upon the curtain's rising.
Konstantin, a young and avant-garde playwright seeks love with the unspoilt beauty Nina, and presents to her an unusual gift, whilst he battles to come to terms with his renowned actress mother Arkadina and her beau, Trigorin, a famous writer.
The drama pulls no punches, and blow by blow, we were immersed in the mental anguish of the characters, with each facing their share of problems and challenges in life.
I was curious how this Russian classic would be adapted to the Australian audience, and quite relieved to find that Hilary Bell's adaptation has Australianised the language while retaining the essence of the play, which made it much easier to get drawn into proceedings, especially for those of us who find older style English phrasing a bit hard to follow.
As for the set, I absolutely adored the beautiful tranquil lake, and subtle effects of sunset and sunrise in the background, as the events progressed.
The Seagull is by no means a straight forward drama of girl meet boy, have an argument, make up and live happily ever. Beneath the surface, there lies a complexity that unfolds, layer by layer, like an onion, and as with an onion, as you get towards the heart of things, sometimes it makes you cry.
While there were many moments of comedy within the play, this is a dark, emotional story, and I felt for the characters - their torment, their mental anguish - to the final brutal end.
Another laudable production by Black Swan State Theatre Company – whether it be comedy, drama, or tragedy, you always manage to keep our eyes riveted to the stage.
Hats off to the cast and crew who made The Seagull happen. From a theatre goer's perspective, we had another wonderful evening at the State Theatre Centre of WA, and we are eagerly looking forward to Black Swan State Theatre Company's next offering.
If you enjoyed this article, please share it!
Nita Teoh follows her nose to find out the latest happenings in Perth. To get the insider's perspective on upcoming events at Perth, follow us @PerthWalkabout