Details

Category: Arts & Culture
Published: Thursday, 20 March 2014 08:10
Written by Greg Letts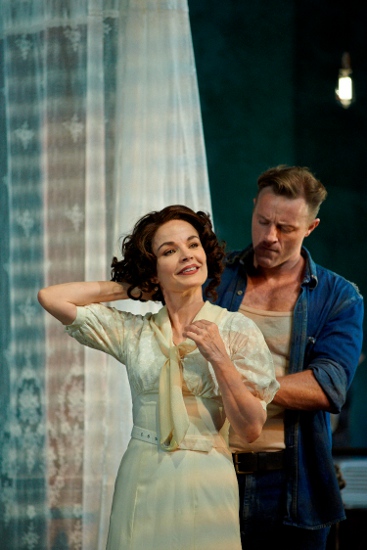 Sigrid Thornton (as Blanche) & Nathaniel Dean (as Stanley), A Streetcar Named Desire
Photo Credit: Gary Marsh Photography and Black Swan State Theatre Company
Black Swan State Theatre Company's production of A Streetcar Named Desire is now showing at the State Theatre Centre of WA until the 11th April.
A Streetcar Named Desire is Tennessee William's classic 1947 play which begins with fading Southern belle Blanche Dubois arriving in New Orleans' French Quarter to live with her sister Stella and Stella's husband Stanley Kowalski, seeking refuge after a series of family tragedies including the death of her parents and the loss of the family home estate of Belle Reve.
Blanche epitomises the old South, with genteel values and manners, but as the play goes on we will discover that it is a facade of how she perceives herself and how she wishes the world would be. A sensitive soul still haunted by guilt over her part in her young husband's suicide, she uses make believe and fantasy to cope with the harsh realities of life.
Stanley, on the other hand, is a man of the post World War II New South. He is blunt, honest and direct, with a nasty temper and no filter between thought and physical expression.
Stella is an uneasy compromise between the Old and New South - retaining some of Blanche's old world charms and graces, but attracted to the raw vitality of Stanley's life.
But with Blanche and Stanley both being fixed in their views and unwilling to tolerate the other's lifestyles, it is only a matter of time before the skirmishes for Stella's affection turns into open war, with tragic results.
As somebody whose previous knowledge of the play was limited to knowing Blanche's final line and seeing many parodies of Marlon Brando's screams of "Stella!", I came in fully expecting a tragedy but interested in the journey along the way to our final destination.
And what a journey it was! The first hour and a half up to the intermission simply flew by as I watched the scenes play out in front of me. At scene changes I would find myself sitting forward, drawn into the scene by the skills of the cast. And at the final curtain I found myself emotionally wrung out like a limp dishrag after two and a half hours of drama, humour and tragedy.
The themes and motifs involved in A Streetcar Named Desire have been examined in great detail over the years (and by many a high school English student), so I will leave that to finer minds and instead turn to my thoughts on Black Swan's production of this American classic.
CAST
Sigrid Thornton (Blanche Dubois) and Nathaniel Dean (Stanley Kowalski) both sparkle in their roles. From their very first scene together, there is an instinctive hostility that is underlaid with sexual tension between them. Both appear fascinated and repelled by the other, disgusted with what the other represents but unable to leave each other alone.
Jo Morris as Stella Kowalski also does a fine job in bringing to life a character that is caught up in the clash of two worlds, hoping desperately to find a solution but ultimately unwilling and unable to assert herself and save them all.
Finally, Luke Hewitt (as Harold Mitchell, Blanche's would be suitor), gives a believable portrayal of a man who, while attempting to be gentlemanly in his wooing of Blanche, is still willing to force himself on a woman who he believes has wronged him. It's a tough ask, ranging from the sensitive and slightly wimpish butt of his friends' jokes to the menacing wronged suitor, but I don't think anybody in the audience would have had any trouble believing that Mitch was a dangerous man during his final confrontation with Blanche.
The set itself is a masterpiece - it feels cramped and seedy and you can almost breathe in the New Orleans heat and humidity. There is a vibrant, exuberant life to it in some scenes, and a sad forlorn feel in others, thanks to the excellent mood lighting. You really do feel like you are in the middle of the action.
Black Swan State Theatre Company took a successful swing at one of America's iconic plays last year with Arthur Miller's 1949 play Death of a Salesman, and with A Streetcar Named Desire they have followed up with another great production which proves that classic theatre still has a lot to say about modern times.
A Streetcar Named Desire is another polished performance from the Black Swan State Theatre Company production line. A must see.
If you enjoyed our review of A Streetcar Named Desire, please share it!

Greg Letts is a digital marketer and puppy raiser by day, and a play reviewer by night. To get the insider's perspective on upcoming events at Perth, follow us @PerthWalkabout