Details

Category: Arts & Culture
Published: Friday, 15 March 2013 11:14
Written by Greg Letts
Play Review: The Importance of Being Earnest
Production by: Black Swan State Theatre Company
Duration: 2 hours 20 minutes, Tuesday 12th March 2013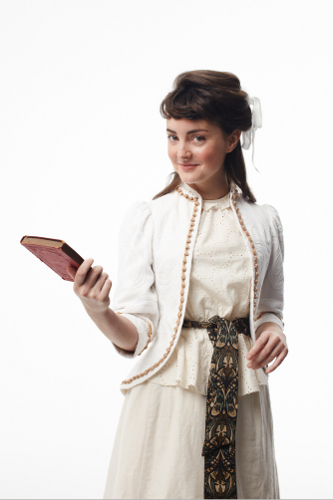 Adriane Daff as Cecily Cardew
Photo Credit: Black Swan State Theatre Company and Robert Frith



After spending a couple of very enjoyable hours watching Black Swan State Theatre Company's wonderful production of Oscar Wilde's The Importance of Being Earnest, you'll have to forgive me if I feel that a serious review would not be in the spirit of things. So instead, you'll have to settle for a series of off-the-cuff and extremely trivial remarks!
Isn't there an amazing difference between being told somebody is a genius and being shown why? Wilde's script still crackles with energy and wit more than a century later. I haven't laughed so much for ages, even though I'm sure that half of the jokes and barbs went completely over my head.
Is the script the star of the show? Maybe, but the cast clearly aren't about to play second fiddle to anybody. Taking on a landmark play like this must be a daunting prospect - just reading in the program the history of the actors and actresses who have played Lady Bracknell is a bit like reading a Who's Who of theatre - but the Black Swan cast attack their roles with a confidence and sense of sheer fun that is immensely enjoyable.
Was there a stand-out actor? Not for me, and while the roles were played a little larger than life, nobody overstepped the mark into caricature. Although I'd like to give a special mention to Peter Rowsthorn as Doctor Chasuble for sailing as close to the wind as you can get! Regardless, his performance and contortions were such great fun to watch, I could have forgiven him just about anything.
Gosh, it was nice to watch a play where I actually like all the characters, and enjoy spending a couple of hours together with them. I've watched many plays and enjoyed almost all of them, but this was one of the few where I'd have loved to get up on stage and join in - and perhaps get a muffin before Algernon pinched them all!
It is one thing to write a play that exposes the hypocricies of your day and age - but quite another to make it side-splittingly funny at the same time. But it is the cast and crew who must deliver the goods, and deliver they do - in spades, whether you have seen one or not!
A quick mention of the sets - I know nothing about set design, but the sets struck me as uncluttered while still being elegant and setting the tone with style. Great job.
I usually like to criticise something in a production in order to show I'm an objective reviewer, but quite frankly, I simply had too much of a good time to do that. I can't think of anything anyway. So there.
Treat yourself and a loved one and get yourself a couple of tickets to The Importance of Being Earnest at Black Swan State Theatre Company. You'll come out of the theatre with a spring in your step, a glow in your heart, and a smile on your face. Not a bad result in this modern age of mean-spirited cynicism!
Event

Details

Presented by: Black Swan State Theatre Company

Dates: 9 March 2013 to 28 March 2013

Venue: Heath Ledger Theatre, State Theatre Centre of WA

For more information, visit the Black Swan State Theatre Company website

For more Related Articles, please scroll to the bottom of this page.

If you enjoyed this article, please share it!