Details

Category: Arts & Culture
Published: Tuesday, 22 January 2013 11:28
Written by Greg Letts

Play Review: The Mother F**ker with the Hat
Production by: Black Swan State Theatre Company
Duration: 1 hour 35 minutes, Thursday 17th January 2013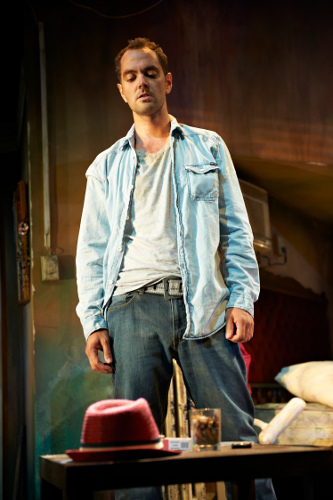 The Motherf**ker with the Hat
Photo Credit: Black Swan State Theatre Company and Gary Marsh



The program for Black Swan State Theatre Company's production of Stephen Adly Guirgis' The Motherf**ker with the Hat contains the following warning:

The Motherf**ker with the Hat contains extremely frequent coarse language, explicit sexual descriptions, drug use, adult themes, possible nudity, smoking of herbal cigarettes on stage and strobe lighting.
Judging from the warning, you would be forgiven for expecting this play to be a crude attempt to shock audiences with low life characters that disgust, and a storyline that scrapes the bottom of the barrel for depravity and excess. The stage for the opening scene certainly seems to indicate that this will be the case, featuring a seedy New York apartment that practically oozes heat, sweat and grime.
But while the warning proved to be 100% accurate, playwright Stephen Adly Guirgis has taken all these elements and put them together in such a way that the most shocking parts of the play are not the profanities, sex talk, drugs or nudity, but the interactions between the characters. Guirguis has crafted a play that quickly grabs your attention and draws you into the world of the main characters, so the frequent obscenities, drug taking, or casually explicit conversations about sex seem a natural part of the story, rather than something put there just to raise eyebrows.
I sat down at the beginning of the play expecting to be confronted with a range of unlikeable characters displaying the lowest parts of human nature. The synopsis in the program, a terse summary of the plot, reinforced my fears. But I came out of the theatre after an hour and a half having watched the cast put on stellar performances which made me empathise and feel for each character at different times, even though I didn't necessarily like each person or what they did. I watched as each character struggled with their own demons, with varying degrees of success and self awareness, and along the way I laughed at some side-splitting humor, tensed up during some riveting dramatic moments, and even misted up a little (in a manly way) in one or two of the truly sad scenes.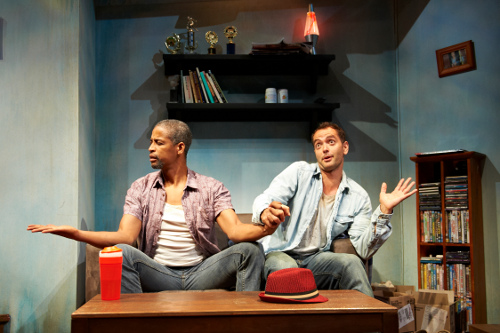 The Motherf**ker with the Hat
Photo Credit: Black Swan State Theatre Company and Gary Marsh

Black Swan State Theatre Company cast and crew can take a deserved bow for their production of The Motherf**ker in the Hat. I don't want to comment too much on which characters I did and didn't like for fear of ruining it for others, but each cast member did a note-perfect job of portraying their characters, with performances that rang true in every scene. I felt like I was glimpsing pieces of real people's lives, rather than just an overdramatic play. It's 95 minutes of intense entertainment that will fly by until the closing lights, with an ending that will leave you drained but not without a small glimmer of hope. Not your typical happy ending, but then again, not much in this play follows the rules anyway, so why should the ending be different?
The Bottom Line: The Motherf**ker with the Hat is not for the young or faint of heart. But if you are broad of mind and open of heart you'll be able to get past the language, drugs, and sex talk and discover that no matter where you live or what your problems are, the need to connect with other human beings remains the hardest addiction of all to kick, and perhaps is the sole vice that we all should indulge in more often.
More Details
Presented by: Black Swan State Theatre Company
Dates: 17 January 2013 to 3 February 2013
Venue: Studio Underground, State Theatre Centre of WA
Warning: extremely frequent coarse language, explicit sexual descriptions, drug use, adult themes, possible nudity and smoking of herbal cigarettes onstage
Tickets can be purchased through ticketek.com.au
For more Related Articles, please scroll to the bottom of this page.
If you enjoyed this article, please share it!