Details

Category: Arts & Culture
Published: Wednesday, 14 February 2018 11:01
Written by Lee-Ann Khoh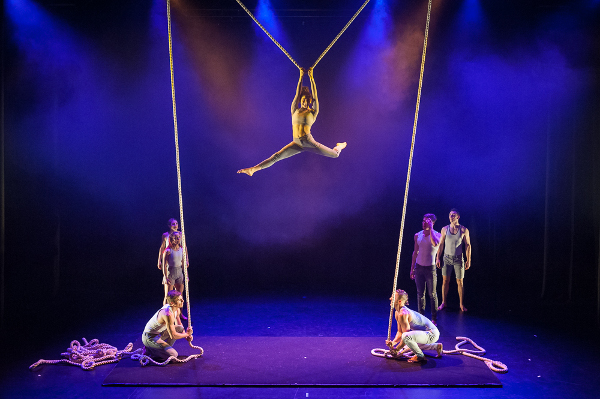 By A Thread, One Fell Swoop
Photo Credit: Aaron Walker Photography

It was a full house that filled the Big Top for the opening show of By a Thread, the physics-defying Fringe World Festival show by Melbourne-based circus One Fell Swoop.
Six performers entered wearing non-descript grey and white attire that belied the spectacle we were about to witness. Like the name "By a Thread" suggests, the ropes suspended from the ceiling were as integral to the show as its people were.
The performers climbed, dangled, and swung from the ropes – and each other – with apparent ease. I was mesmerised by their strength and agility as they carried out their jaw-dropping acrobatics, each one punctuated with whoops and applause from the audience. The cosy venue also meant everyone was close to the action, with graceful bodies at times soaring directly above those in the front row.
At times I was nervous that someone would have an accident while performing their incredible stunts, but the troupe worked cohesively as a team, and the level of trust they must have in each other was something to behold in itself.
By a Thread is on in the Big Top at The Pleasure Garden, Russell Square, Northbridge until February 25 as part of Fringe World.
If you enjoyed this article, please share it!
To find out about the hottest events around Perth, follow us at @PerthWalkabout