Details

Category: Arts & Culture
Published: Monday, 24 July 2017 11:07
Written by Lee-Ann Khoh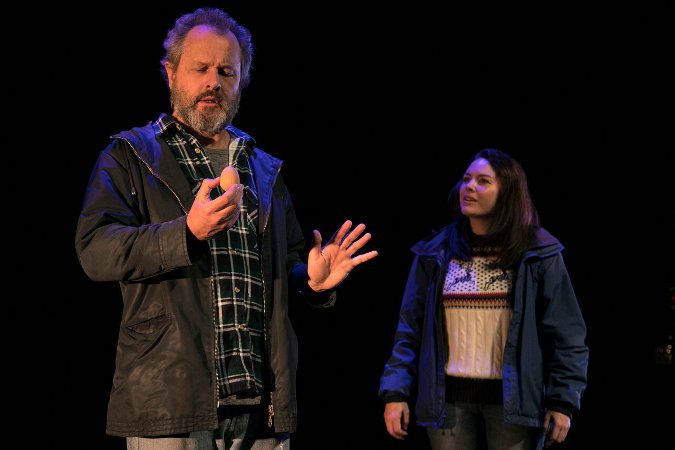 Humphrey Bower (as Dad) and Amy Mathews (as Jinny)
Photo Credit: Black Swan State Theatre Company and Philip Gostelow
In the space between life and death lies Coma Land, a snowy purgatory that lonely child genius Boon (Kirsty Marillier) wakes up in at the beginning of the play. There, she meets an excitable girl named Penguin (Morgan Owen) and her secretive father (Humphrey Bower), as well as happy-go-lucky party planner Jinny (Amy Mathews) and Cola (Ben Sutton), a panda who wants to fit in with the humans.
While Cola and Jinny are simply under general anaesthesia, Penguin and her dad have been in Coma Land for a very long time. Penguin spends most of her time practising her jumps, believing that after 10,000 hours she'll be able to fly. Meanwhile, Boon learns that to wake up from Coma Land and return home, she must "find her thing" that's buried in the snow. But for reasons that soon become apparent, she isn't digging.
I must admit I often roll my eyes when actors play characters much younger than themselves, even though I understand the reasons for it. However, Marillier and Owen were both believable as Boon and Penguin. Meanwhile, Rachael Dease's sound design served to transport us into the surreal world of Coma Land and provided the perfect soundtrack.
Coma Land is an intriguing play that explores the complexity of parent-child relationships and the meaning of failure and success. Combining wonderfully awkward humour with gut-wrenching revelations, Coma Land is a uniquely stimulating experience.
Coma Land, presented by Black Swan State Theatre Company and Performing Lines WA, is on at Studio Underground in the State Theatre Centre of WA until August 6.
If you enjoyed this article, please share it!
To find out about the hottest events around Perth, follow us at @PerthWalkabout