Details

Category: Arts & Culture
Published: Saturday, 22 June 2013 13:04
Written by Greg Letts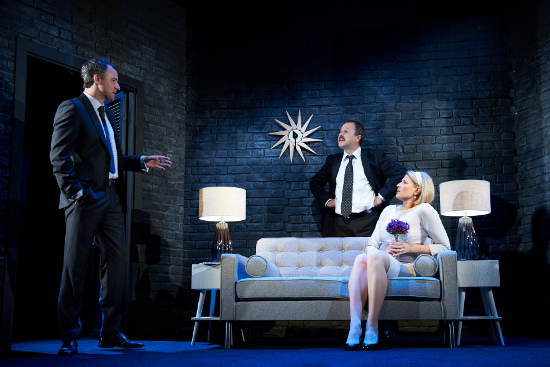 Matt Dyktynski, Humphrey Bower, Michelle Fornasier in Day One, A Hotel, Evening
Photo Credit: Gary Marsh Photography and Black Swan State Theatre Company
Joanna Murray-Smith is quoted in the program for Day One, A Hotel, Evening as wanting this play to be "a fast-paced near-farce about love, sex, competition, long-distance marriage, money and friendship". And boy does she deliver on the pacing - when you are trying to pack all that into a mere 90 minutes, it's no wonder that you have to keep things moving. Black Swan State Theatre Company's production of Day One fairly zips along, with no intermission and barely a breather between scenes, with actors often making their exit past the players of the next scene.
Day One is a breezy look at the middle class - their jobs, relationships, passions, desires and jealousies - where the audience gets to watch a game of What If? played out in front of our eyes. What If we acted on that little flirtation with a friend's wife? What If we made a move on that person we chatted to in a cafe? What If a bored middle aged couple both agree to take lovers? What If the gods of coincidence decide to allow the worst case scenario to actually occur? What Then?
Well, in the case of Day One, what occurs is scene after scene of hilarity as everything gets crazier and crazier, but where the human interactions are still firmly rooted in reality. The pain of betrayal and feelings of jealousy still resonate with the audience, even as we are laughing uncontrollably at the character's reaction to their situations. That little bit of us that finds other peoples' suffering amusing is well and truly catered to by the antics occurring in Day One.
Things begin in Day One conventionally enough, with two lovers conducting an affair in a middle of the road hotel room. Neither Sam (Humphrey Bower) or Madeleine (Michelle Fornasier) seemed particularly sympathetic at first, the dialogue seemed a little on the flowery side, and everything seemed to be heading towards a fairly stock standard comedy. Which is just what playwright Murray-Smith wants us to think.
Then scene two comes along, Tom and Rose meet in a cafe, everything shifts into high gear, and we never look back. Every character has their turn to shine, but I must say that in a play filled with memorable moments, Sam won me over as the character with the pick of the scenes. After that purposely pedestrian opening scene, Sam rises to the comedic heights with his description of his new sex life to Tom (Matt Dyktynski), his no holds barred criticism of Stella's (Roz Hammond) art, and his relish in embellishing his description of Tom's lover to his wife Madeleine. Another scene that springs vividly to mind is the meeting of Tom and Ray (Jacob Allan) to discuss real estate - the question-mark part of that scene was another gem.
Murray-Smith has us purposefully confused for the opening part of the play, as we try to work out just who are the married couples, and who are the lovers. Considering that we don't know how the characters are all related yet, it is an amazing effort by the playwright to provide so many laughs without the framework of relationships in place to work with.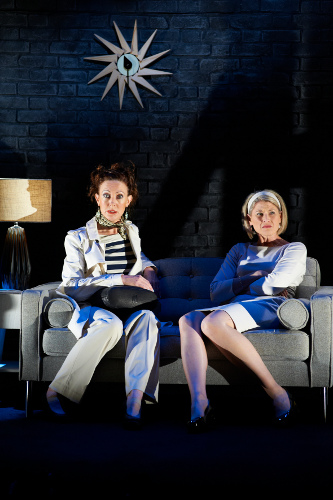 Roz Hammond and Michelle Fornasier in Day One, A Hotel, Evening
Photo Credit: Gary Marsh Photography and Black Swan State Theatre Company
As the play progresses and we start to work out who's with who, the humour just keeps flowing. Besides Sam's scene stealing moments, Ray and Rose (Claire Lovering) do a fine table-turning piece about trust in long distance relationships, and the two scenes where characters unknowingly discuss their rage at being betrayed with one of their betrayers are also incredibly funny.
Interestingly enough, the scene that really tied things together for me is not a comedic moment, but instead a rather maudlin one, as the couples get together for dinner and Stella shares her thoughts about the Sunshine Fields development billboard and its depiction of the pretty facade of perfect homes, instead of the nitty gritty of real life going on behind the walls, in an apt metaphor for the relationships on display in Day One. I would think it would be tough to switch from rapid fire comedy to such a serious and sad tone, but Roz Hammond as Stella pulls it off with aplomb.
Day One is another fine production by Black Swan State Theatre Company and the cast and crew. A special mention for the set designer (Tracy Grant Lord) and lighting designer (Matthew Marshall), who make what appears at first glance to be a dingy brown brick set work equally well as a hotel room, office, cafe, or street scape. It's funny how a shift in the lighting can completely transform the mood of the same set you have been looking at all evening.
Get down to the State Theatre Centre of Western Australia and enjoy 90 minutes of fast and furious comedy in Day One, A Hotel, Evening. Be prepared to laugh a lot and wince just a tiny bit as the characters demonstrate that playing with fire can be more dangerous than you think.
If you enjoyed this article, please share it!