Details

Category: Arts & Culture
Published: Wednesday, 23 September 2015 09:32
Written by Nita Teoh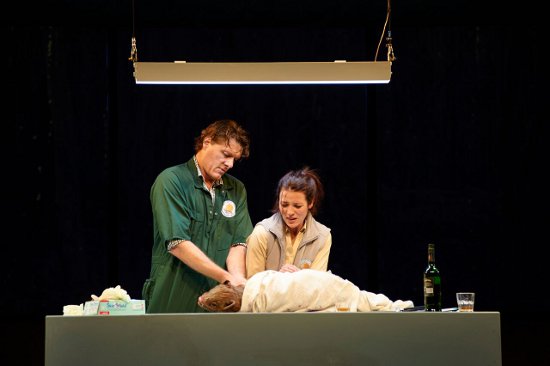 Myles Pollard (as Andy Dixon), Hannah Day (as Dr Piper Ross)
Photo Credit: Gary Marsh Photography and Black Swan State Theatre Company

Extinction by Black Swan State Theatre Company has hit the stage at State Theatre Centre of WA. It's a modern Australian drama with plenty of bite – unearthing the complexities of modern day life and the pressure it exerts on the environment and people.
The play starts with a bang as a mystery man by the name of Harry brings a near extinct Tiger Quoll into the Cape Otway vet practice, where conservation biologist Dr Piper Ross (Hannah Day) is acting as caretaker while her lover, vet Andy Dixon (Myles Pollard), is out on call. Harry has run over the animal, which is the first sighting of tiger quolls in the area for over 10 years.
Harry and Piper get to know each other as they fight to keep the tiger quoll alive, and while they wait for Andy to return and take charge.
Thus begins a chain of events that lead us into a night of ethical and personal conflict, scandal, big money and the spectre of impending death, for individual humans and whole animal species. Throw into the mix some relationship dramas and dangerous liaisons between the key characters of the play and you've got a very entertaining night of intelligent thought provoking theatre.
Economy collides with environmentalism as Harry, a local boy made good as a mining heavyweight, returns home after a painful separation from his wife of many years. Searching to regain some control in his life, Harry offers over 2 million dollars to the CAPE Institute to save the tiger quoll and restore the rain forest around his old hometown. The CAPE Institute director he offers the money to is Heather Dixon-Brown, the divorced sister of Andy Dixon, and the boss of Piper.
Heather, a pragmatist, is eventually won over by the good that can be achieved with Harry's money, despite the fact that it will come from the proceeds of coal mining in the area. Piper is torn between her ideals and the harsh realities, while Andy remains unconvinced of Harry's motives. There is existing tension between Andy and Piper due to Andy's concealment of his terminal illness, and the arrival of Harry creates a maelstrom of chaos between the four characters as their personal lives, professional roles and principles clash. No-one will emerge unscathed...
Black Swan State Theatre's Company's production of Extinction is like a sharp scalpel wielded by an expert surgeon, cutting deep and hard, swiftly, and at many different angles – reflecting the prowess of its creator - Helpmann Award-winning Australian playwright Hannie Rayson. What could have been a tedious bludgeoning of environmental self-righteousness is instead a sensitive, realistic look at a multi-layered, complex issue.
Extinction is deep, it is entertaining. There is tragedy in the shadow of death and extinction, comedy, tension and drama in the interplay of the characters and the situation they find themselves in, and grimness in the bleak unnatural mathematics of the endangered species index. And finally there is hope, fragile and precious, inspiring us to make a difference to our planet.
Loved it. Extinction is just my cup of tea. There were some classic moments that had me in stitches, reflecting the madness of human relations.
The change of sets between different acts was slickly handled, including the two level switching of location scenes that was done swiftly. I particularly loved the bushland setting scene, which was so evocative of a rainforest right on stage.
Clocking in at two and a half hours with a 20 minute interval, Extinction has time to explore the issues it raises in depth, and it takes full advantage of this, while never ceasing to be entertaining along the way. First-class theatre with a sensitive examination of an emotionally charged topic – a totally satisfying night of entertainment.

Extinction by Black Swan State Theatre Company is on at the State Theatre Centre of WA till 4 October.

If you enjoyed this article, please share it!
Nita Teoh enjoys exploring Perth on foot, and is an avid play goer by night.
To find out what's on in Perth, follow us @PerthWalkabout