Details

Category: Arts & Culture
Published: Wednesday, 27 May 2015 16:19
Written by Greg Letts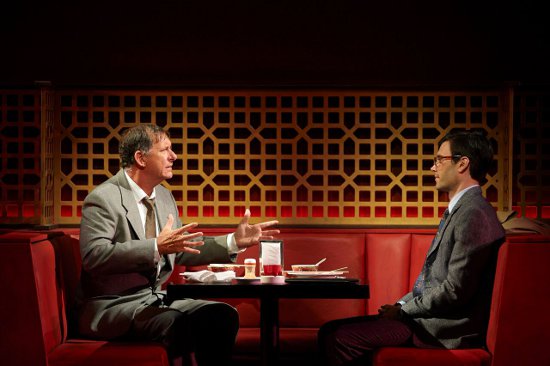 Shelly Levene (Peter Rowsthorn) and John Williamson (Will O'Mahony),
Glengarry Glen Ross
Photo Credit: Gary Marsh Photography and Black Swan State Theatre Company
Glengarry Glen Ross is considered by many to be David Mamet's finest play, and Black Swan State Theatre Company tackles this masterwork with gusto and obvious relish. Set in Chicago in the era of typewriters and landline phones, we are privy to two tumultuous days in the lives of the offices four salesman and their office manager.
The play begins in a nearby Chinese restaurant, with salesman Shelly Levine, a previously successful salesman currently experiencing a major slump, using every ounce of his persuasive skills to convince office manager John Williamson (Will O'Mahony) to give him some of the premium sales leads from the Glengarry Highlands area, instead of the terrible Glen Ross Farms leads John has been giving to Shelly.
In a nearby booth, fellow salesmen Dave Moss and George Aaronow are commiserating about the tough sales climate and complaining about their bosses – Mitch and Murray – who are never seen but whose harsh and dog eat dog work ethic colours the entire play. Dave and George's conversation quickly takes a turn for the worse when Dave attempts to convince/blackmail George to steal the premium Glengarry leads and sell them to rival real estate entrepreneur Jerry Graff.
After being introduced to the office pack, we then turn to the top dog – Ricky Roma – a smooth voiced slick talking shyster who masterfully spins a conversational web around unsuspecting prey and fellow diner James Lingk, drawing him effortlessly into Ricky's sales funnel.
Act 2 begins in the real estate office, which has been burgled the previous night. In an office full of testosterone, aggression, bullshit and acrimony, Detective Baylen is interviewing each salesman in turn in the private office unseen to the audience, while on stage the audience is treated to a tough day at the office for all concerned. Like caged lions, the characters are constantly attacking each other's vulnerabilities, and have no hesitation in going for the jugular. The struggle to be the alpha male is always present, with the merciless sales board showing who is hot and who is not. Just who will survive in the urban jungle?
Black Swan have acquired an excellent cast and crew for this latest production, and they have brought David Mamet's play to life with vibrancy and vigour. Mamet's dialogue is idiosyncratic to each character, and full of people interrupting each other, skipping words and spouting jargon, but the cast manage to make each conversation sound natural and flowing, not stilted and forced. At the pace the words are being fired out, that is no mean accomplishment. Great performances all round, and while Peter Rowsthorn's Shelly Levene and Damian Walshe-Howling's Ricky Roma are spot on, for me Kenneth Ransom as Dave Moss hit the high note of the evening with his explosive expletive laden farewell speech, a rant that was dripping with bile and delivered with a barely contained and fully believable fury. Although Ricky's and Shelley's dressing down of slimy office manager John was also something to be savoured.
All in all, a masterful play that has been given the full Black Swan State Theatre Company treatment. Chalk another success up on the board!
If you enjoyed this article, please share it!
Greg Letts is a table tennis coach and guide dog puppy raiser by day, and an entertainment reviewer by night.

This month on Perth Walkabout - we'd love you to support "Team Harry" on our HBF Run for a Reason - Jog 4 a Dog journey to raise funds for the next guide dog puppy for Guide Dogs WA.
To get the insider's perspective on upcoming events at Perth, follow us @PerthWalkabout
---