Details

Category: Arts & Culture
Published: Wednesday, 29 June 2016 10:29
Written by Nita Teoh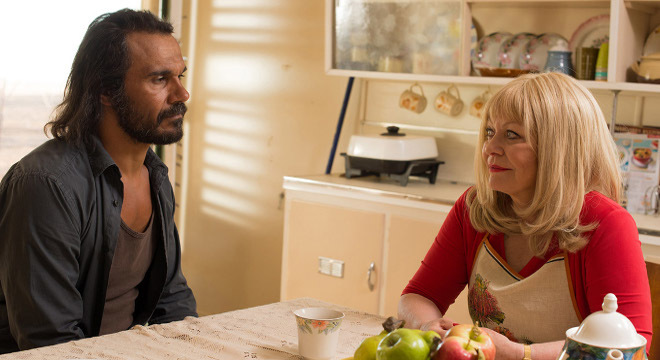 Detective Jay Swan (Aaron Pedersen) and Maureen (Jacki Weaver), Goldstone
On a raining Saturday morning in Perth, I stepped into the cinema in Leederville looking forward to watch the Australian movie Goldstone.
Goldstone is Ivan Sen's latest Australian thriller, a spin off from his movie Mystery Road.
The movie revolves around the goings on in a mining town – behind the seemingly quiet life of a remote town in outback Australia, what you see is not necessarily what you get behind the scenes.
The arrival of detective Jay Swan (Aaron Pedersen) to uncover the mystery surrounding a missing person case leads to the ruffling of a few feathers including that of bright eyed, young cop Josh (Alex Russell) of the local township.
Alongside the investigation, the proposed expansion of the Furnace Creek mine is a hot topic around town, as different parties try to wield their power to get a piece of the action. Jacki Weaver cast as the mayor Maureen baking and giving her away famous apple pies was priceless, and with her friendly demeanour, more than meets the eye, as in reality, she plays it tougher than the boys.
David Wenham was outstanding in his role cast as the man overseeing the mining operations and busy juggling corruption deals. He played quite a different role, in comparison to previous assignments as the laid back Diver Dan in Sea Change - he is a commendably versatile actor.
Detective Jay Swan confronts many issues in his role as the Detective out to find dirt, and gets way more than he bargains for. As he battles for the safety of his own life, behind the scenes, he also grieves for his daughter, has ongoing drinking problems and agonises over feeling like a cultural misfit.
Jay Swan is mistrusted by the local government authorities, police and mining operations. Is this because he is a blow in Detective? Because he is new? Because of his ethnicity? Because of something else? Prejudice rears its ugly head.
The film does a brilliant job at provoking thought and raising the gamut of contemporary issues that are faced as individuals in Australian societyL - cultural issues – which culture does a person belong to? Several? Multifaceted? Cultural misfit? Aboriginal issues including land rights and the Stolen generations are raised, along with other topical issues surrounding the environment, politics, and ethical considerations.
Who do we trust? And why do we trust some? And yet not others?
What will we do to get ahead in life? Would we take actions at all costs? Do we sweep hot issues under the carpet and hope that nothing major will erupt? If we pretend that a problem situation doesn't exist - if we don't answer a question asked, then maybe the truth will bury itself and go unnoticed.
Auteur Ivan Sen does a brilliant job at bringing contemporary issues to the fore challenging us to consider the consequences of the actions that we choose to take or not take.
From a visual perspective, the scenes of the outback were outstanding, revealing both the beauty and the harshness of our Australian landscapes in a remote town.
Goldstone kept me riveted to my seat from beginning to end.
It is a hard hitting, confronting and powerful Australian thriller.
Hang on to your seat for a thrilling ride with filmmaker Ivan Sen. I certainly did.
Goldstone is now showing at Luna Leederville and Luna SX from 30 June.
If you enjoyed this article, please share it!


To get the latest news about what is happening around Perth, follow us at @PerthWalkabout