Details

Category: Arts & Culture
Published: Sunday, 07 February 2016 10:08
Written by Greg Letts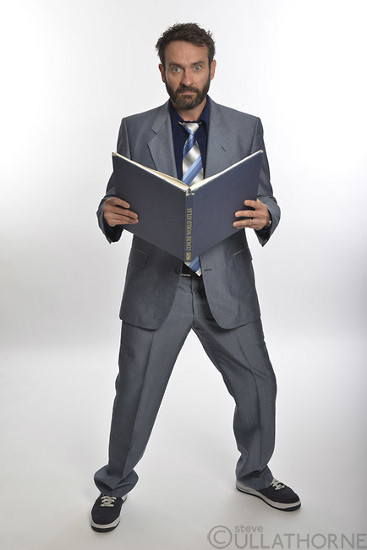 On a hot summer's evening my partner and I were waiting in line to enter Teatro 1 and catch up with one of our favorite Fringe World acts of 2015, Gordon Southern. Last year was our first look at the veteran UK performer in action, and we were looking for a repeat performance in 2016.
Shuffling into the theatre, we were relieved to see that the venue was air conditioned, since the crowd was packed in shoulder to shoulder. But before I could find a comfortable position on the wooden benches the house lights dimmed, Gordon bounced on stage and away we went.
Gordon is a treat to watch live. A veteran performer with over 20 years of experience, he has an entertaining persona and could be funny just reading the phone book out loud. Add to that an ability to improvise off the cuff and a penchant for wandering off into interesting conversational detours a la his hero Billy Connolly, and you have the makings of a good night's comedy.
This being his opening night in Perth, Gordon appeared to be running with a fairly loose format as he road-tested some of his new material. It was quite interesting to watch him at work as he occasionally referred to his notes before launching into another comedic sequence. Mixed in with his references to cars, his father's dementia, Costco and hotel experiences were a number of great ad-libs and interactions with the rather frisky crowd, who were providing him with plenty of material as he bantered back and forth.
As in any live comedy show, there were a number of hits, a couple of near misses and the odd dud joke. Although I do wonder about the duds, since Gordon almost invariably had a nifty comeback up his sleeve to get things rolling again. I think he almost looks forward to them!
While most of Gordon's routine is plain laugh out loud funny, he also has the ability to venture into areas that can be tricky to handle and still find something funny in the situation, while expertly avoiding overstepping the mark. Last year he touched on the suicide of a girlfriend, and this year he found the funny side in his father's dementia. It takes a brave comic to tackle these sorts of topics, and a great one to make the audience laugh without making them feel uncomfortable about it. Fortunately Gordon is both.
The only quibble I have about the whole show is that Gordon's rapid fire delivery means that sometimes he runs over his own jokes before the audience has a chance to realise that he has said two or three funny things at once. There were a few times where I was laughing at something Gordon had said a moment ago, by which time he had already delivered another couple of zingers. A number of truly funny jokes didn't get the laughs they deserved because Gordon was already moving on before we had a chance to work them out!
Gordon Southern is back with a brand new comedy routine at this year's Fringe World Perth 2016, and anybody looking for a great hour's worth of comedy is well advised to get in the fast lane and make a booking for one of his remaining shows. It's a great hour and a half of comedy packed into sixty minutes.

Catch Gordon Southern Long Story Short at the Fringe World Perth till 9 Feb.

If you enjoyed this article, please share it!
Find out about the hottest events in Perth, by following us at @PerthWalkabout