Details

Category: Arts & Culture
Published: Wednesday, 16 May 2018 10:35
Written by Nita Teoh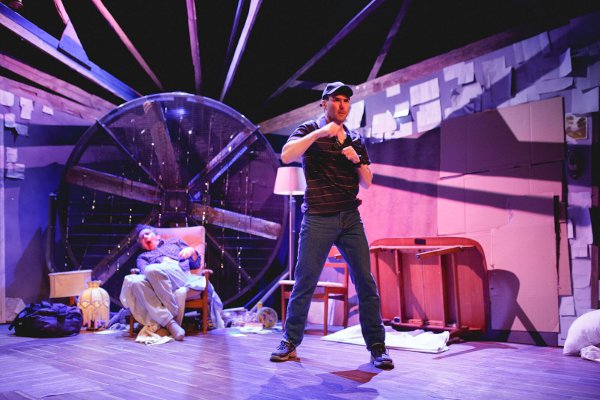 Will O'Mahony (as Isaac) and Igor Sas (as Arnold)
HIR
Photo Credit: Daniel James Grant

Black Swan State Theatre Company presents its latest offering HIR at the Studio Underground this month.
Set in modern day America, Isaac returns home from 3 years of war hoping to regain some sanity, only to find that his family have gone off the deep end in his absence.
His baby sister Max is now his testosterone filled brother, his Dad has had a stroke, and his Mum – where do you start?
The complex themes that are explored in this play are reflective of the turbulent times in which we live, both at an individual and family level as well as at a broader societal one.
The impact that technology and the Internet has had on our way of life, the ever-expanding definitions of gender variety, and the striving for an all inclusive society while dealing with a burgeoning array of fragmenting sub cultures, presents a constant conflict filled challenge.
Will O'Mahony shines in his performance as Isaac. He is no stranger to Black Swan State Theatre Company productions – having acted in many of the company's plays, and also been the director and writer of Tonsils and Tweezers and Coma Land. A special mention also to the fine performance by Jack Palit (as Max) in his debut with the company in a challenging role.
Multi award winning playwright Taylor Mac takes us on a journey that is distinctly unique and provocative, and brings a whole new meaning to family conversations around the kitchen sink. The narrative is intense and unrelenting but then sometimes – so is life.
Thought provoking and insightful, though not without some funny moments in a tragi comedic sort of way, Black Swan State Theatre Company packs a punch with HIR.
It's a powerful conversational catalyst about the many issues that face us in today's society.
HIR is on until the 27 May.
If you enjoyed this article, please share it!
To find out about the hottest events around Perth, follow us at @PerthWalkabout