Details

Category: Arts & Culture
Last Updated: Wednesday, 29 December 2010 09:22
Published: Saturday, 06 November 2010 15:47
Written by Amanda Kendle
Institutions named after royalty are still found all over Perth, constant reminders of our colonial past, and our beloved and historical His Majesty's Theatre is no exception. However, in typical Australian abbreviated style, we tend to call it "The Maj" if we're headed off there for a night of entertainment. It's located in the centre of Perth on Hay Street, close to major hotels and shops, as well as numerous restaurants, bars and cafes.



His Majesty's Theatre in 1933
Photo Credit: Wikipedia

Looking Through the History of His Majesty's Theatre
His Majesty's Theatre is over a century old, taking a couple of years to build and being opened in late 1904. As a typical example of Edwardian architecture, and named after the British monarch of the time, King Edward VII, the theatre has been included on various heritage lists since the 1970s. The building has seen ups and downs throughout its history, and has had several major renovations. Its key features, preserved over the years (if in somewhat changed form) are the domed roof and the marble staircase.
Over the last century, The Maj has hosted all manner of evening (and matinee) entertainment. Pretty much everything has taken place there at one time or another: Shakespearean plays, boxing matches, films, opera, and musicals, just to name a few. It has also been host to numerous celebrities, including The Beatles, Judy Garland, Katharine Hepburn, Dame Nellie Melba, Anna Pavlova and Sir John Gielgud, among others. It's certainly no "Johnny come lately" on the world theatre stage!
These days, you can learn all about the history of His Majesty's Theatre, and more, by visiting the Museum of Performing Arts which is housed within the theatre buildings. Artefacts from performers might be of interest and there are various tours available including a Behind the Scenes peek. The museum is open on weekdays between 10.00am and 4.00pm so if you can't catch a night-time performance, you can still get some of the spirit of The Maj.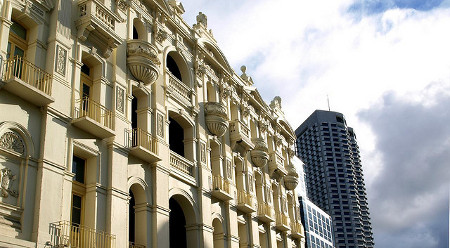 His Majesty's Theatre
Photo Credit: Flickr/pat_ong


The Maj Today
Not many days go by without some exciting performance taking place His Majesty's Theatre. They can certainly vary, and if you are looking for something laidback or fun, then you can pretty much guarantee that you'll find that in the "basement" venue of the theatre, which is called "Downstairs at the Maj" – cabaret acts often appear here.
In the main theatre, visiting dancers, comedians, actors and musicians appear in a wide range of performances. As well as visiting acts, the buildings of His Majesty's Theatre are also home to the West Australian Ballet and the West Australian Opera companies, and they perform regularly here on stage.
There are also regular features like a seniors morning when performances are reasonably priced and targeted towards an older audience – a great way to get all kinds of customers through the door and to utilise the theatre on weekday mornings when it would otherwise be empty.
Some people might say that Perth lacks the cultural sophistication of the east coast, but these days I'd have to say that there's not too much difference. Just take a look through the various performances that are planned for His Majesty's Theatre in the near future and you can see plenty of cultural variety. And I can certainly remember a whole host of different and enjoyable experiences I've had there over the last thirty (or so!) years.

If you've ever sat in the audience at The Maj, do let us know in the comments below about your favourite performance.